Irritating China: US increases military assistance to Philippines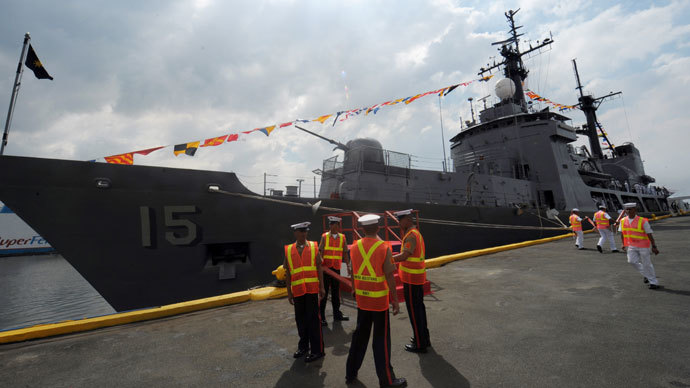 The US is increasing its annual military assistance to the Philippines from $30 million to about $50 million, and may provide an additional Hamilton-class cutter to help the island nation build a strong defense against China.
Philippines Foreign Minister Albert Del Rosario told reporters that the increased assistance would mark the highest level of aid provided by the US since troops returned to the Philippines 13 years ago. Since 2002, the US has provided its Asian ally with $312 million in military aid and equipment.
"For military financing, it's an allocation that is worked out by the U.S. Congress, and it's usually for acquisition and maintenance," Del Rosario told reporters.
The funds will help Manila secure its maritime borders as tensions with China continue to rise. The Philippines is currently locked in a heated dispute with its neighbor over territorial claims in the South China Sea, particularly the resource-rich Scarborough Shoal and Second Thomas Shoal.
The Philippines currently have two Hamilton-class cutters, which are the largest class of vessel in the country's Navy. The 378-foot warships support helicopter deployment and allow troops to effectively patrol its maritime borders.  Since they were considered old and inactive, the US provided the two ships free of cost, but spent $25 million to refurbish them.
Rosario said Manila might acquire a third Hamilton-class cutter to boost its patrols, but a senior military official told Reuters that the Philippines might instead use its new funds to equip its two vessels with a missile system.
One of the cutters is already patrolling the South China Sea and the second cutter is on its way to Subic Bay, a former US Navy base that faces the disputed territories. In June, the Philippine military told Reuters that it plans to restore its air and naval bases at Subic Bay, and US officials said all of the military facilities the US is requesting greater access to are facing China.
"It's for the protection of our West Philippine Sea," Defense Secretary Voltaire Gazmaine told the Associated Press, referring to Manila's adopted name of the "South China Sea."
On Wednesday, Rosario also told reporters that US spy planes frequently fly over regions that both the Philippines and China claim as their legal territory.
"We do have an interest in terms of what is going on with our exclusive economic zone, within our continental shelf, and we want to know if there are any intrusions," Rosario said.  
Some media commentators have suggested that the US is trying to establish a more enduring presence in the South China Sea. US defense contractor Huntington Ingalls Industries last year set up an operation to service US Navy ships at Subic Bay, and Ambassador Jose Cuisia recently told reporters that Washington would receive greater access to the country's bases.
China has also expressed concerns about US moves in the Philippines. Su Hao, a professor of Asia-Pacific Studies at China Foreign Affairs University, told China Daily that he believes the US will not openly admit its intentions.
"The US would like to see Manila posing threats to China or back to Manila behind the scenes, but it is reluctant to have open conflicts with China," he said.
The US has repeatedly insisted that it would not get involved in the territorial disputes in the South China Sea, but has continually helped the Philippines upgrade its military defenses. Washington will raise its military assistance to Manila from $30 million provided this fiscal year to $50 million next year.