US mulls sending military training teams to Lebanon and Iraq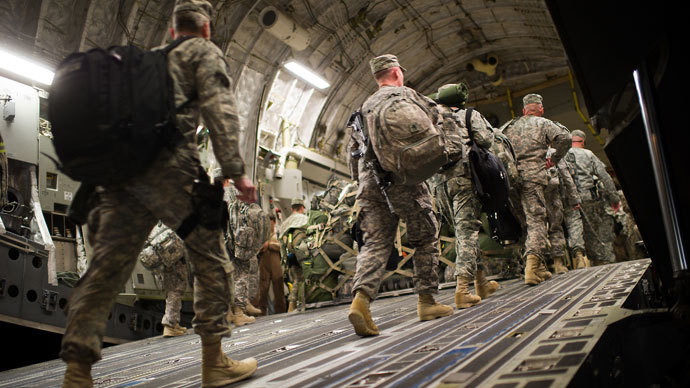 US military commanders are examining ways the US could bolster security in Syria's neighboring countries, and have recommended sending military trainers to Lebanon and Iraq.
Gen. Martin Dempsey, the chairman of the Joint Chiefs, on Wednesday revealed US plans to strengthen military assistance in Lebanon and Iraq as the conflict in Syria begins to spill over its borders. Dempsey noted that Iraq is suffering the re-emergence of al-Qaeda. Terrorist fighters, including members of the al Nusra Front, are crossing from Iraq into Syria, he said.
"We've made a recommendation that as we look at the challenges faced by the Lebanese armed forces, the Iraqi security forces with a re-emerging al Qaeda in Iraq, and the Jordanians, that we would work with them to help them build additional capability," Dempsey told reporters at the Pentagon on Wednesday.
To strengthen US security assistance in the region, he recommends that the US accelerate arms sales and send military training teams to Lebanon and Iraq. He already asked Gen. Lloyd Austin, the head of the US Central Command, to consider small deployments in upcoming weeks, Dempsey spokesman Col. Edward Thomas told CNN.
Thomas said that "it's in the realm of the possible" that training teams will be sent back into Iraq – a move that would mark the first significant deployment since the US withdrew its troops in 2011. Dempsey emphasized that the US was not sending combat troops into Lebanon or Iraq, but noted that a Patriot missile battery and about a dozen F-16 fighter jets had already been left in Jordan, bringing the total number of American forces in the country to 1,000.
"Militarily, what we're doing is assisting our partners in the region, the neighbors of Syria, to ensure that they're prepared to account for the potential spillover effects," Dempsey said during Pentagon briefing. "As you know, we've just taken a decision to leave some Patriot missile batteries and some F-16s in Jordan as part of the defense of Jordan. We're working with our Iraqi counterparts, the Lebanese Armed Forces and Turkey through NATO."
Syria's two-year war has already killed more than 100,000 people, and both Iraq and Lebanon have witnessed an increase in violence as the Syrian conflict has divided supporters of President Bashar al-Assad and the Syrian rebels.
Ali al-Moussawi, the media adviser for Iraqi prime minister Nouri al-Maliki, on Thursday told AP that Baghdad would be welcome to increased arms sales and US training teams to address instability in the region.
The US has long maintained that its involvement in the conflict would be limited. But if military commanders agree to send trainers to the region, the US would have a more direct role in addressing the violence along the Syrian border.

"When you say would we send the United States Army or the United States military into Lebanon, I'm talking about teams of trainers, and I'm talking about accelerating foreign military sales for equipment for them," Dempsey said, trying to reassure Americans that combat troops would not be deployed. "This is about building their capability, not ours."