US to get wider access to South China Sea for military warships and aircraft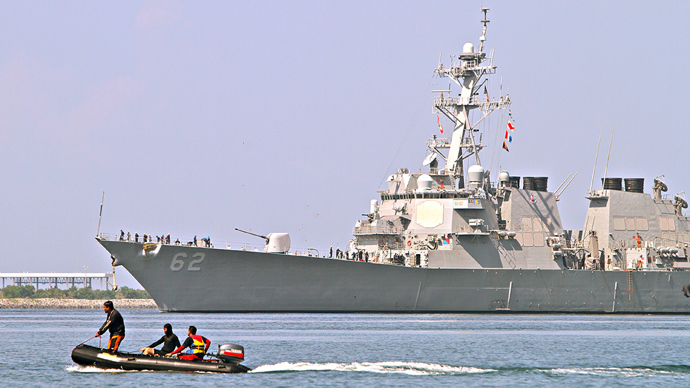 The US has expanded negotiations with Manila and is seeking to build facilities and storage sites in the Philippines, as well as gain greater access to bases for its aircraft and warships. Bases the US is considering are all facing the South China Sea.
Talks for greater US military presence in the South China Sea comes as the territorial dispute between China and the Philippines is heating up. Since February, the Philippine military has complained that Chinese navy and government vessels have increased their presence in the disputed area.
Ambassador Jose Cuisia this week told reporters that the Philippines plans to provide the US with greater access to its bases on a temporary and rotational basis, which would bolster its defense. Although Manila will not provide permanent basing rights to the US, it would allow the US to have a wider presence in the South China Sea.
The 1998 Visiting Forces agreement allows US forces to maintain a rotational presence in the Philippines, but Washington is now looking to expand upon that and fund its own facilities.
"We need to expand (the 1998 pact) further because we may have to build some additional facilities," Cuisia said during a press conference in Manila.  Such facilities would be funded for "joint use" and would allow the US to store its military equipment and supplies in the Philippines. Cuisia claims that such facilities would allow the country to be prepared for potential humanitarian aid and disaster relief efforts.
"Then whenever it's needed it's so much easier to use that equipment because it's already there," Cuisia said.
Facilities and military bases that the US wants to use for its aircraft and warships are facing the South China Sea, which would allow Washington to operate its warships and aircraft near the disputed territory.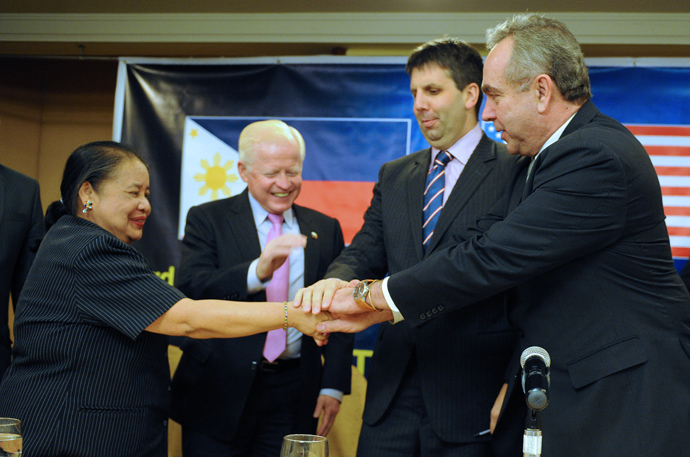 The Philippine military last month told Reuters that it plans to restore air and naval bases at Subic Bay, which is a former US Navy facility that would provide the US with a strategic location in the region. Military and diplomatic sources this month told Reuters that all of the military facilities that the US is requesting greater access to are facing China.
The US has already used Subic Bay for ship visits, and US defense contractor Huntington Ingalls Industries last year set up an operation to service US Navy ships. James Hardly, Asia-Pacific editor for HIS Jane's Defense Weekly, told the New York Times that this might be an indication that the US will keep its warships and aircraft in the Philippines in the long run.
"Certainly the buildup in Subic by companies that expect to support the US military suggests and expectation that this is going to be a semi permanent presence," he said.
Carl Baker, program director of the Pacific Forum of the Center for Strategic and International Studies, told Voice of America that talks of a base-sharing plan is another indicator that the US may be creating a permanent presence in the Philippines.
"I think that's sort of the model that they're following," he said. "So they can put people on these bases on a more permanent basis without calling it 'permanent basing.'"
News of the expanded US presence in the Philippines may ignite further anger in Chinese officials as tensions between the two Asian nations remain high. In late 2012, the US announced that it would increase its number of troops, aircraft and ships that rotate through the Philippines – a statement that angered Chinese officials and prompted Chinese media to describe the Philippines as troublemakers seeking conflict. At the time, Chinese Communist Party Chief Xi Jinping urged his military to prepare for a struggle.
The Philippines is currently locked in a dispute with China over claims in the South China Sea, in particular the resource-rich Scarborough Shoal and Second Thomas Shoal. Cuisia told reporters that informal talks between Manila and Washington have reached the ministerial level, and that both sides are hoping to strike a deal before President Benigno Aquino steps down in 2016.
You can share this story on social media: