Tragic toll: 500 US kids die annually from gunshots, 7,500 injured, research finds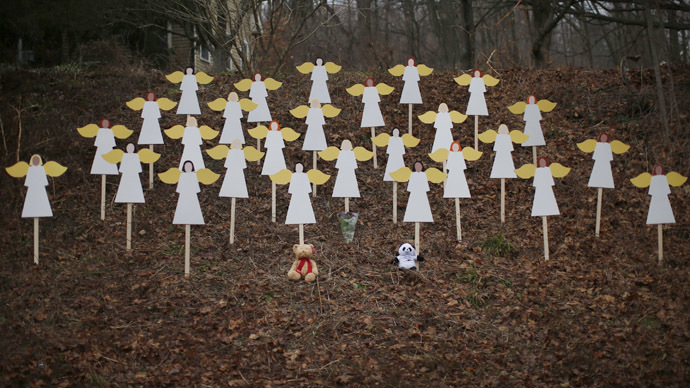 The number of US children and teenagers who died after sustaining gunshot wounds – mostly from handguns - jumped by nearly 60 percent in a decade, according to new findings.
In addition, around 7,500 children are hospitalized annually after being injured by gunfire, a figure that increased by more than 80 percent from 1997 to 2009.

The findings were presented at a conference of the American Academy of Pediatrics, held in Orlando, Florida on Sunday.

It was estimated that eight out of every 10 gunshot casualties were caused by handguns, according to medical data reviewed by the doctors. The doctors then offered their opinion on the current gun debate, saying the national conversation should reflect the danger posed by handguns, as opposed to efforts to revoke the availability of semi-automatic rifles.

"Handguns account for the majority of childhood gunshot wounds and this number appears to be increasing over the last decade," said lead author Dr. Arin L. Madenci, a surgical resident at Boston's Brigham and Women's Hospital.

"Furthermore, states with higher percentages of household firearm ownership also tended to have higher proportions of childhood gunshot wounds, especially those occurring in the home."

Madenci and his colleague, Dr. Christopher Weldon, examined statistics from the Kids' Inpatient Database from 1997, 2000, 2003, 2006 and 2009 for a total of 36 million pediatric hospital admissions.

During that period, hospitalizations of children and teenagers aged 20 and younger from gunshot wounds jumped from 4,270 to 7,730. The death of children according to medical reports rose from 317 in 1997 to 503 in 2009.

The rates of gun ownership in homes with children differed widely from state to state, with 10 percent of households in New Jersey having guns, for example, compared to 62 percent in Montana, the researchers found.

The new findings are certain to aggravate the ongoing gun debate, which peaked following a mass shooting at Sandy Hook Elementary School in Newtown, Connecticut that left 20 children and 6 adults dead.

While supporters of the Second Amendment don't dispute the new statistics, they say they should be considered within a larger context, Alan Gottlieb, chairman of the Citizens Committee for the Right to Keep and Bear Arms, told NBC News.

"When you look at the number of people who are alive today or who didn't have to be hospitalized because they weren't a victim — and the money saved on that — you have to look at that side of the equation to get good public policy," Gottlieb said.

The report was correct in pointing to the problem of handguns, which are used far more often in accidents and crimes than military-style assault weapons, he added.

"So where the doctors are saying the debate should be more in that direction, I wouldn't disagree with that," Gottlieb said.