United Airlines loses 10-year-old girl
Published time: 15 Aug, 2012 21:49
Edited time: 16 Aug, 2012 01:49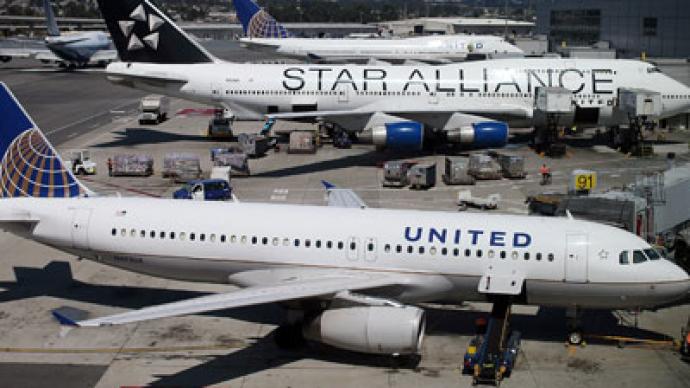 United Airlines has a lot of responsibility — after all, they move thousands of people through the sky miles above the Earth. At least they are supposed to. Two parents are outraged that the airline managed to somehow lose their 10-year-old daughter.
Phoebe Klebahn, 10, was supposed to board a United Airlines flight in San Francisco bound for Chicago, where a staffer with the airline would then meet the girl and help bring her to another flight going to Grand Rapids, Michigan where she was scheduled to attend summer camp. That was the plan, at least. Several hours after the girl was expected to land in Grand Rapids, her parents received a phone call from the camp informing them that their daughter was nowhere to be found.
Author Bob Sutton is friends with Phoebe's parents, Annie and Perry, and provides his account of the incident, which occurred in late June, in a just-published blog post.
"No one showed-up in Chicago to help her transfer, so although her plane made it, she missed the connection," Sutton writes. "Most crucially, United employees consistently refused to take action to help assist or comfort Phoebe or to help her parents locate her despite their cries for help to numerous United employees."
According to Sutton, their problems escalated as soon as they received that call from the summer camp. He says that the parents were routed to a customer service agent in India who said, "It does not matter" that Phoebe missed a flight that was on schedule and that the agent was "sure she is fine."
United then put Annie Klebahn on hold for 40 minutes.
As the events unfolded, Phoebe's parents eventually found out that a gaffe at United's end was at the heart of their problem. The company had out-sourced a separate agency to greet Phoebe in Chicago — something her parents say they were never informed of — and that the person responsible for picking up the 10 year old simply forgot to do as much.
Mr. Klebahn "was dumbfounded as neither of us had been told in writing or in person that United outsourced the unaccompanied minor services to a third party vendor," he says, according to a copy of the complaint filed with United and made available to Sutton.
From there, though, Sutton says things got even more disturbing. "This United employee knew how upset the parents were and how badly United had screwed-up," he writes, but the agent on the other end of the phone would not offer any further assistance while on the clock.
"When [the service rep] back she said should was going off her shift and could not help," Annie Klebahn writes in the claim. " My husband then asked her if she was a mother herself and she said 'yes'—he then asked her if she was missing her child for 45 minutes what would she do?"
Only then did the agent admit she could relate. "She kindly told him she understood and would do her best to help," Sutton says. Fifteen minutes later, the agent called back to say that Phoebe had been found in Chicago and was safe and sound, at least as much as you would expect for a traumatized 10-year-old girl.
Suttons adds that before the entire series of events had ended, United managed to also lose Phoebe's luggage.
"We are redepositing the miles used to purchase the ticket back into Mr. Klebahn's account in addition to refunding the unaccompanied minor charge," United Airlines says in a statement delivered to Huffington Post. "We certainly appreciate their business and would like the opportunity to provide them a better travel experience in the future."
Phoebe, however, "never wants to fly United again," her parents say. According to the account the girl gave, she made repeated attempts in Chicago to have United staffers help her phone home. It took three days to get her bags back and in their complaint to the airline, her parents say, "We estimate that we spent around 18 hours collectively on the phones."