Unarmed man charged with wounding bystanders shot by NYPD officers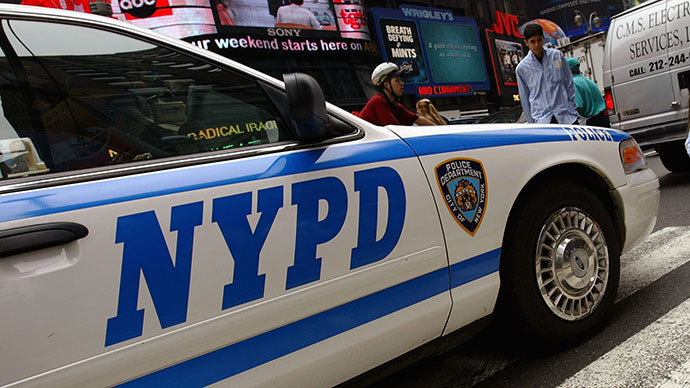 In the latest turn to a developing case an unarmed man involved in an altercation with New York City police near Times Square, which resulted in the shooting of two bystanders, the district attorney's office is holding him responsible for their injuries.
According to an indictment unsealed on Wednesday Glenn Broadnax, 35, of Brooklyn, NY, has been charged with assault over the September 14 incident which left many wondering whether the use of force by police in a crowded area was justified. 
He began wading into busy lanes of traffic in the bustling Times Square area, drawing a crowd and the attention of police officers who attempted to contain Mr. Broadnax, a 250-pound man described as emotionally disturbed. 
Under the assumption that he was armed, two officers opened fire when Broadnax reached into his pants pockets, instead hitting two women bystanders. The bullets struck a 54-year-old woman in the knee and grazed another 35-year-old woman.
Broadnax was then subdued when an officer shot him with a Taser gun. 
Video and photos released of the scene depicted a chaotic situation, with a group of officers attempting to corral Broadnax while onlookers yelled at police not to shoot him. 
He was taken to Bellevue Hospital Center for evaluation, where, according to a court document, Broadnax told a detective that "he was talking to dead relatives in his head and that he tried throwing himself in front of cars to kill himself." A psychiatrist later found him competent to stand trial, reports The New York Times. 
Though he was initially facing misdemeanor charges of drug possession, resisting arrest and menacing, the district attorney's office successfully argued in front of a grand jury to charge Broadnax with assault, with a maximum sentence of 25 years.
According to assistant district attorney Shannon Lucey, it was Broadnax "that created the situation that injured innocent bystanders." 
The nine-count indictment alleges he "recklessly engaged in conduct which created a grave risk of death."
A lawyer representing one of the women struck by an officer's bullet, Mariann Wang, disagrees with the district attorney, saying that it should be the two officers who fired their weapons who should be facing charges. 
"It's an incredibly unfortunate use of prosecutorial discretion to be prosecuting a man who didn't even injure my client," said Wang. "It's the police who injured my client."
Broadnax's lawyer, Rigodis Appling, said his client suffered from clinical depression and anxiety, and was disoriented during his encounter with the police. 
"Mr. Broadnax never imagined his behavior would ever cause the police to shoot at him," said Appling.
The two police officers who shot and struck members of the crowd still face an internal Police Department Inquiry and were placed on administrative duty, reports The Times. 
The September event quickly drew critics to cite another high profile incident in August of 2012, when nine bystanders were injured by bullets fired by NYPD officers involved in a confrontation with a gunman near the Empire State Building. 
Police guidelines instruct officers to avoid endangering innocent people, though they are permitted to use deadly force if they judge themselves to be in imminent threat of serious injury or death.
You can share this story on social media: