Shop-and-Frisk? NY retail stores under fire for allegedly targeting customers based on race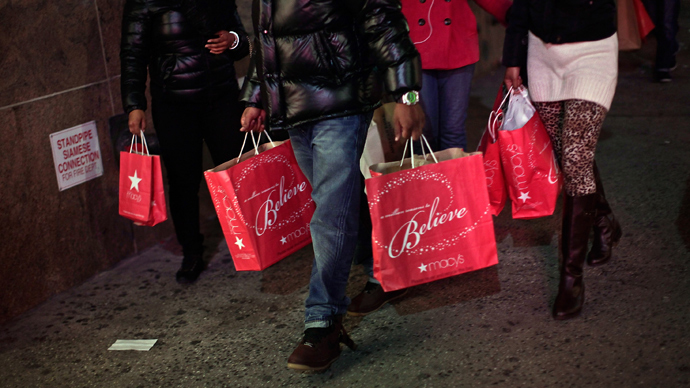 New York City's Commission on Human Rights has announced it is preparing to issue subpoenas to a number of popular department stores in response to allegations that the stores' security teams target non-white shoppers, using prejudice as a policy.
Macy's and Bloomingdale's have already received subpoenas, documents which require representative to give testimony on the matter, and Old Navy and Banana Republic are expected to receive them soon, according to a statement issued this week.
New York Human Rights Commissioner Patricia Gatling said the stores have refused to voluntarily cooperate with the agency's investigation by failing to provide details of their security policies. The Commission first requested the information last month after multiple minority customers said they were followed while shopping innocently and, in at least one case, had the police called on them. 
"It is disappointing that they have not fully cooperated in the Commission's investigation into recent allegations of racial profiling at some of the City's larger retail stores and instead sought to dictate the terms and scope of our investigation," Gatling said in the statement.
Each store has until December 10 to respond to the subpoenas by handing over the documents. The Human Rights Commissioner did not specify what penalty could be levied against the stores, but a New York bakery was fined $25,000 in September after refusing to hire an African-American woman because of her race. 
On November 13 Gatling told the city council she had heard reports about "serious and disturbing" discrimination practices. 
Dated the same day, a letter from the Human Rights Commission to the stores asked for "loss prevention policies; procedures for approaching and detaining individuals suspected of theft; records regarding all individuals accused of theft in the past two years; and what, if any presence NYPD officers have in the retail locations," as quoted by DNAinfo.com, a New York news site. 
Representatives from each of the four aforementioned stores told reporters they are cooperating with the investigation. 
"We have attempted to and are continuing to work toward an arrangement that satisfies the Commission's legitimate investigatory needs and protects our proprietary business interests," wrote Macy's spokeswoman Elina Kazan in a statement. 
The Human Rights Commissioner's statement comes just after a Hispanic New York police officer filed a lawsuit claiming she was wrongfully arrested at Macy's last year. Jenny Mendez, 29, asserts that the store security staff told the NYPD she confessed to shoplifting, leading to her arrest, when no confession actually took place. Mendez was consequently fired from her job as a probationary officer with the NYPD. 
"It is apparent that the sole reason for stopping [Jenny] was due to her Hispanic heritage and that the subsequent arrest, detainment, and prosecution was racially motivated," the suit claims. 
Among a number of similar incidents, a black college student from Queens was arrested in April of this year after buying a $350 belt from Barneys. Trayon Christian, 19, claims in a lawsuit against the famous luxury store that the cashier called the police because she believed, seemingly for no reason other than his race that his credit card was obtained illegally. 
Christian was then handcuffed, taken to a local police precinct, and asked "how a young man such as himself could afford such an expensive belt."
You can share this story on social media: