Departing NYPD Commissioner will have 10 officer, $1.5mn private security force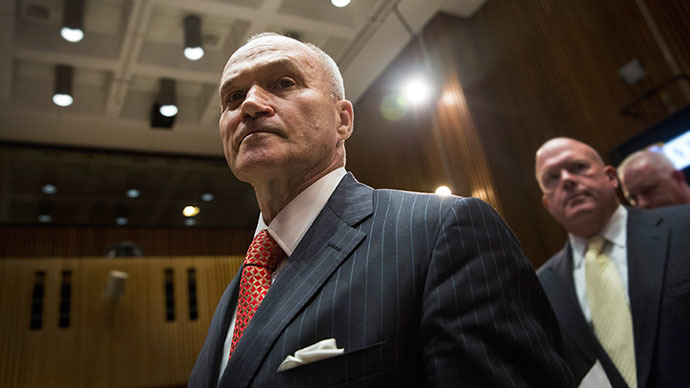 Some New York City taxpayers are angry over the announcement that outgoing police commissioner Ray Kelly will have his own private security team slated to cost New Yorkers $1.5 million.
Kelly previously requested that six detectives serve him and his family as bodyguards once he leaves office next month, saying he will remain a "high profile target." The outgoing Mayor Michael Bloomberg will take the 17 officers who protected him during his term.
Building on Kelly's request, the NYPD's Intelligence Division is recommending that he instead take 10 officers to protect him at all times in New York and when he makes trips out of town. That group is expected to cost between one and two million each year, according to DNA Info New York.  
Kelly is only the second New York City police commissioner to receive his own taxpayer-funded police unit. The first was Howard Safir who, in 2000, demanded a 12-member team to protect against the threats he was facing. The move was heavily criticized at the time as other former commissioners had hired their own private security forces.
"Any ex-commissioner who can afford his own security or can have someone else pay for it should not foster the cost on the public," an unnamed former official told reporter Murray Weiss.  
"Kelly probably needs some security considering possible threats," another source said. "But this seems like a lot."
Kelly will likely be remembered for the controversial stop-and-frisk policy he solidified over the past decade. New York police stopped hundreds of thousands of people each year without reasonable suspicion of criminal activity. After a lengthy trial earlier this year a federal judge declared stop-and-frisk unconstitutional, in part because it unfairly targeted racial minorities.  
The same controversy that surrounded Kelly during his 12-year tenure appears to be following him out the door. The ten-man security team announcement comes as Brown University administrators said they are considering disciplining students who interrupted a speech Kelly delivered at the campus in an attempt to protest his stop-and-frisk policy.
Kelly appeared at the Rhode Island school on October 29 but as soon as he began speaking a number of students and members of the surrounding community began shouting, calling him a racist and a variety of other names. After 30 minutes, administrators determined that the disruption was enough to end Kelly's engagement.
Brown University President Christina Paxson announced in a letter to the school community that her administration is assembling a committee that will "be charged with making findings and recommendations" about what, if any, punishment should be given to the students who heckled Kelly. Paxson did suggest some members of the student body would be punished, writing that in the past "students who violated the Code of Student Conduct have been asked to accept responsibility for their actions."
You can share this story on social media: