BART system starts issuing bans against passengers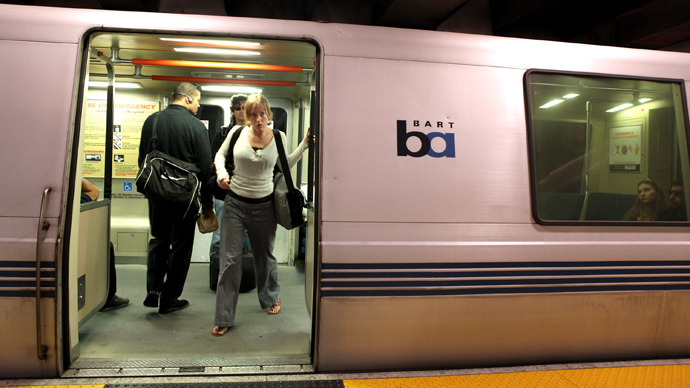 People who ride the Bay Area Rapid Transit (BART) system in California have to officially be on their best behavior beginning this Monday: a new law that lets transit police ban unruly passengers, troublemakers and even protestors starts this week.
Effective Monday, BART riders cited for any number of offenses can be banned from boarding the 700-or-so train cars that regularly transverse the San Francisco/Oakland area as part of one of the largest mass-transit systems in the United States. As RT reported last week, policies enacted under the recently passed State Assembly Bill 716 let BART cops issue "prohibition orders" to passengers merely accused of breaking even minor transit rules.
Any passenger cited or arrested on BART property for a felony act including lewd and violent behavior can be issued a prohibition order on the spot that strips them of their riding privileges for anywhere from 30 days to an entire year. Lesser offenses carry penalties too, though, and passengers cited three times in just as many months for minor crimes can be banned from the BART as well.
Because three citations in three months can warrant a prohibition order, RT noted last week that political protesters cited with "Willfully disturbing others on or in a system facility or vehicle by engaging in boisterous or unruly behavior" and "Willfully blocking the free movement of another person in a system facility or vehicle" could be subjected to the ban.
"AB 716 won't only target violent behavior," local ABC affiliate KGNO News acknowledged last week. "It can be applied to protestors who have been arrested during free-speech movements."
The San Francisco Weekly has also divulged some of the other acts deemed inappropriate by BART officials. "Assembly Bill 716, which passed last year, allows BART to issue a 'prohibition order,' meaning it can (and will) ban anyone who commits a criminal offense on BART property," SF Weekly's Erin Sherbert wrote on Monday. "In other words, if you are busted holding up trains, assaulting workers or commuters, being lewd and lascivious (masturbating), selling drugs, scrawling missives on BART property, or just bothering others, then you'll be walking home."
Sherbert first warned of AB 716 in an article published back in January, and at the time acknowledged that authorities hoped to reverse a recent trend of escalating violent in BART stations with the law. "BART has become a breeding ground for violence and bad behavior," she wrote. "In one recent case, a man pushed his way into a booth and beat the station agent severely, according to BART."
Because the new law broadly allows authorities to issue probation orders for comparably meager activity, though, opponents are concerned that the slippery slope will carry protesters, the homeless and other undesirables off the train, perhaps with somewhat solid legal backing. BART has revealed an appeals process to help people who may be wrongly issued prohibition orders and is standing by their new policy despite concerns over possible discrimination. On the topic of profiling, BART Police Chief Kenton Rainey told NFO News, "As a person of color, I'm certainly sensitive to those types of issues."
"Race is not an issue in this and it should not be one, nor is geographic location of the BART stations. Again, this is system wide," added Amalgamated Transit Union President Antonette Bryant.
You can share this story on social media: