Anonymous shuts down BART stations in San Francisco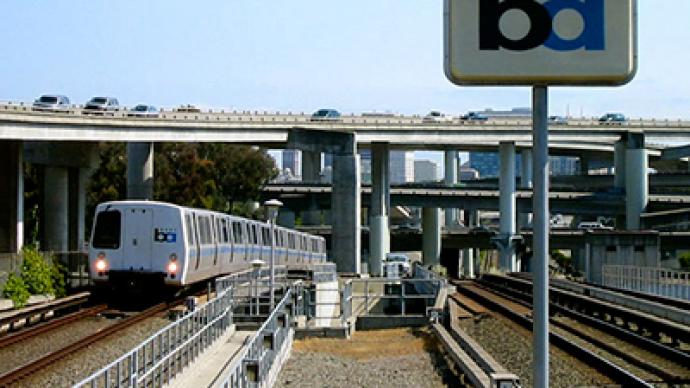 As many as 100 protestors in San Francisco, California successfully closed down four subway stations in the city's Bay Area Rapid Transit (BART) system yesterday, signaling the latest bout in a battle between activists and the San Fran transit cops.
Last week protestors gathered in San Francisco to protest the July 3 killing of Charles Hill, a subway station patron that allegedly threw a knife at a BART officer who was prompted to respond with gunfire. In an attempt to sideline demonstrations last week, authorities throttled cell-phone service throughout the metro stations, causing for a massive three-hour black-out in coverage. As the war between sides escalates to one not just over the unjust killing but of civil rights, yesterday's protest marked only the latest installment in the war against authority in the Bay Area.Around 50 protestors are reported to have gathered at the platform of the Civic Center Station yesterday afternoon after the hacktivist group Anonymous called for an in-person protest to occur during rush hour. Another slew of demonstrators surrounded a BART train, keeping it from leaving the station. Area news outlets report that another group of protestors led a rally down the city's Market Street, into San Francisco's financial district.As a result of the protests, four stations in all were shut-down while police tried to handle the situation. A spokesperson for BART remarked that there were no injuries or arrests on Monday. Cell phone service throughout the BART system also remained on throughout the ordeal.Over the weekend, hacktivists aligned to Anonymous took down the public website for BART, infiltrating their network and releasing the private data of thousands of mass-transit users. A spokesperson for the collective issued a statement that the hack was in defiance of the "censorship" imposed during the previous week's cell-phone shut-down. BART officials responded by defending their decision to black-out service and said that both the FBI and Department of Homeland Security would be investigating the hack.Also on Monday, a representative for the American Civil Liberties Union said that they will not be following through with a proposed lawsuit against BART in regards to the mobile service shut-down. ACLU attorney Michael Risher told reporters that they would not be filing suit over the disabling of reception last Thursday, but added that he was indeed disappointed by BART.Last month's shooting of Charles Hill came only weeks after BART Officer Johannes Mehserle was released from prison. Mehserle served a meager 11 months for the killing of Oscar Grant, an unarmed man who was slain face-down in a San Francisco transit station on New Year's Day 2009.
You can share this story on social media: