Texas Senate passes controversial abortion bill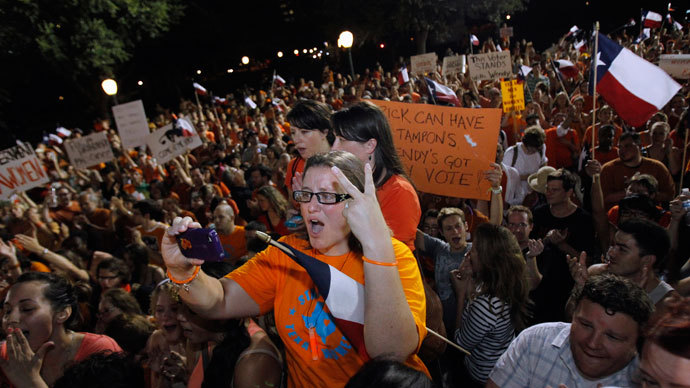 Abortions past 20 weeks of pregnancy are now banned in Texas. The state's Republican-held Senate has passed one of the most restrictive abortion bills in US history with a 19-11 vote, amid mass gatherings of protesters from both sides of the fence.
Friday's approval of the bill ends a political battle that touched the whole nation – not just Texas. Having been passed by the House earlier, it will now be in the hands of Republican Governor Rick Perry. He has called for a second meeting of the Texas legislature to ensure the bill's success. It started on July 1 and could take up to 30 days.

The 20-week period is based on research which states that a fetus feels pain after that point. The current Texas abortion limit is 26 weeks. The new bill makes it the 13th state to reduce that to 20 weeks.

But the fight is not yet over for abortion rights advocates in Texas. The same bill was blocked in 12 other states, and those who oppose the Texas document have also promised to challenge it. Thousands of activists from both sides of the argument have gathered outside the state capitol this summer, to take part in public hearings and rallies.

Republican Senator Bob Deuell urged during the nine-hour Friday debate to "draw the line and not torture these babies that are aborted," while Democrat Wendy Davis believes that "this bill is creating a situation where women in Texas today not only will not be made safer but they will absolutely be at risk of their health."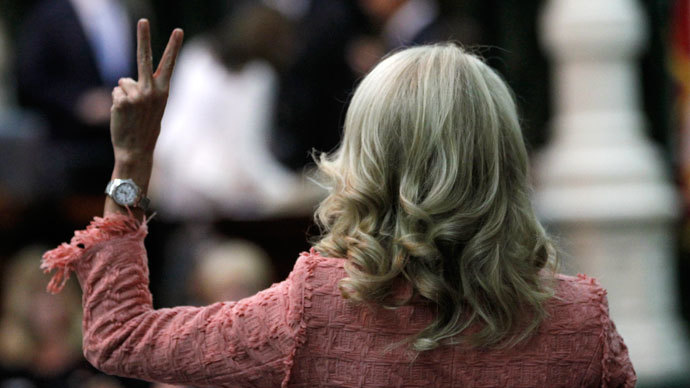 The document also stipulates that any doctor performing a pregnancy termination will be required to have admitting privileges at a hospital within a 30-mile radius of the abortion clinic. Backers of the bill say this is needed in case complications arise during the procedure and hospitalization is necessary. Changes have also been made regarding how doctors will administer abortion drugs.

The Austin Senate chambers were swarmed with people – supporters in blue and opponents in orange. The former displayed signs stating, 'Unborn babies feel pain,' while holding up Bibles. Those opposed to the bill held banners which read, 'My body, my choice.'

"What happened here tonight is going to fast-forward change in Texas in the long run, but unfortunately a lot of women will suffer in the process," said the president of the Planned Parenthood Federation of America, Cecile Richards.

Meanwhile, Governor Perry told reporters that "today the Texas legislature took its final step in our historic effort to protect life."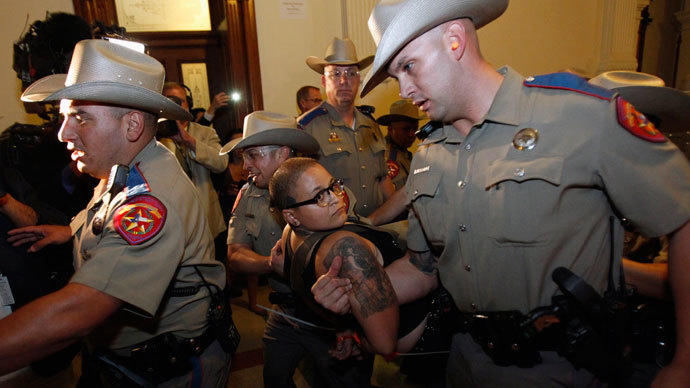 The proceedings were marked by intensified security procedures, as guards scanned bags for tampons and sanitary towels, fearing they would be used as projectile weapons. Eighteen jars of feces were found, along with one jar of urine and three bottles of paint.

"All of these items - as well as significant quantities of feminine hygiene products, glitter, and confetti possessed by individuals - were required to be discarded; otherwise those individuals were denied entry into the gallery," said the Texas Department of Public Safety.

The scanning quickly became known as 'Tampongate' on social networks.

You can share this story on social media: