Kansas abortion crackdown: New bill says life begins at fertilization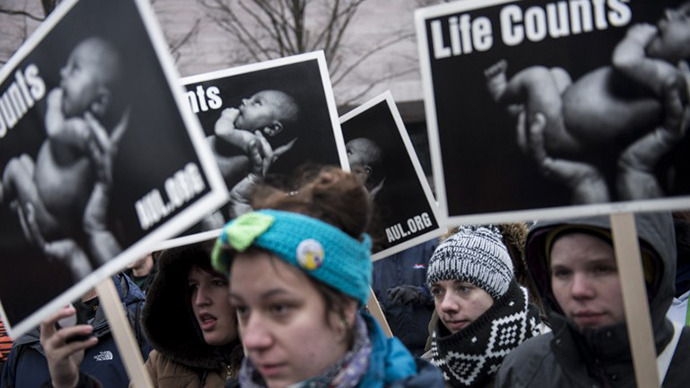 Kansas joined growing number of American states to impose abortion restrictions Friday by passing a bill stating life begins at fertilization, banning gender-based abortion and prohibits abortion providers from being involved in school sex education.
The Kansas House of Representatives voted 90-30 for the bill, while the Senate approved it 28-10. Both the chambers have Republicans in majority. The bill is now sent to the State Governor Sam Brownback, a strong abortion opponent, who is expected to sign it into law quickly. Thus, the new laws could be in force on July 1. 
Among the bill's 40 provisions, one denies doctors who perform abortions, as well as their patients, the use of public funds or tax preferences, ensuring no state money is used in the practice of terminating pregnancies.
The bill also demands abortion clinics provide all sorts of information on fetal development to the pregnant woman, as well as on implications the abortion might have.
The most controversial of all things stated in the bill is the declaration that life begins "at fertilization." The victorious bill proponents explain it does not mean abortions are banned altogether, but describe the declaration as "a statement of principle."
"This fulfills the legislative intent to create a pro-life state," said Kathy Ostrowski, legislative director of Kansans for Life, as cited by Reuters.
However, abortion rights advocates describe tax provisions as appalling and discriminatory and see the Kansas bill as a fresh challenge to the 40-year-old US Supreme Court Roe v. Wade decision, which legalized a woman's right to an abortion.
"It's probably, if not definitely, unconstitutional and it's incredibly mean-spirited," AP cites Jordan Goldberg, state advocacy counsel for the New York City-based Center for Reproductive Rights.
The last two years have seen a dozen states coming up with their own abortion limits.
The most recent before Kansas and the toughest on abortions so far was North Dakota. Its lawmakers passed a resolution, according to which next year's state ballot will decide whether life begins at conception. If people vote 'yes', abortions will be outlawed statewide.
Current North Dakotan legislation is already the toughest in US. It bans abortions as early as the sixth week of pregnancy. A similar restriction is enacted in Arkansas, which prohibits most abortions after the 12th week.
You can share this story on social media: