Death row inmates sue Texas for sourcing execution drug from compounding pharmacy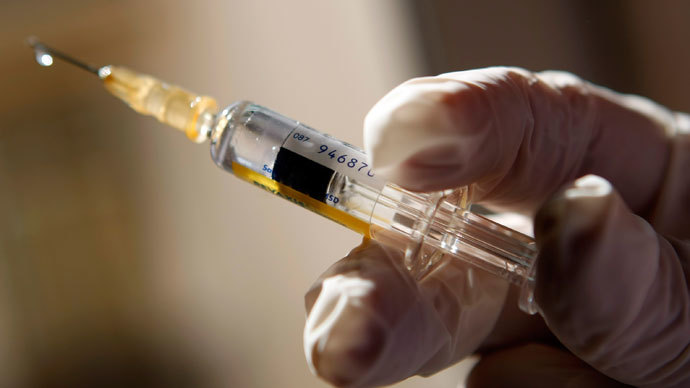 Death row inmates are suing the state of Texas for obtaining a killing drug from a compounding pharmacy after its previous supply of pentobarbital expired last month. The lawsuit says the drug carries "a high risk of excruciating pain."
The state turned to a compounding pharmacy in suburban Houston to purchase eight vials of pentobarbital last month, a Freedom of Information request obtained by AP revealed.
The information came to light after Texas prison officials refused to explain how they procured more of the death row drug amid a national shortage.
States that carry out the death penalty began experiencing a shortage of lethal drugs after some overseas companies refused to sell the drugs for the purpose of executions in 2011.
Texas, along with some other states, then turned to domestic compounding pharmacies like the one in Houston to refill their supply.
With the new supply, executions can go on as planned into the next year, AP cited Department of Criminal Justice spokesman Jason Clark as saying.
One of the main problems with the switch is that compounding pharmacies are not subject to federal inspection and drugs from those facilities are reportedly at risk of being contaminated.
On Wednesday, three Texas-based death row prisoners filed a lawsuit challenging the state's use of drugs originating from compounding pharmacies, arguing that they violate the US Constitution's protection against cruel and unusual punishment.
This type of pharmacy is "not subject to stringent FDA regulations" and is "one of the leading sources for counterfeit drugs entering the US," the lawsuit reads, as quoted by AFP.
"There is a significant chance that [the pentobarbital] could be contaminated, creating a grave likelihood that the lethal injection process could be extremely painful, or harm or handicap plaintiffs without actually killing them," it adds.
Compounding pharmacies are only regulated by local state authorities and have been in the crossfires before for possible contamination risks. In November 2012, one such pharmacy was identified as being responsible for a deadly meningitis outbreak caused by poor hygiene.
Moreover, the plaintiffs argue that the drug can cause "a high risk of excruciating pain."
"Use of compounded pentobarbital would constitute a significant change in the lethal injection protocol, a change that adds an unacceptable risk of pain, suffering and harm to the plaintiffs if and when they are executed," the lawsuit says.
"This uncertainty and the unnecessary suffering and mental anguish it creates for plaintiffs is an Eighth Amendment violation," it argues.
Texas Attorney General Greg Abbott responded on Wednesday saying that it still intends to execute plaintiff Michael Yowell by administering a dose of compounded pentobarbital. The state of Texas carries out more executions than any other state in the US.
Previous legal challenges against drugs from compounding pharmacies have failed.
You can share this story on social media: