Death row inmates may face "torturous" end with animal-killing drug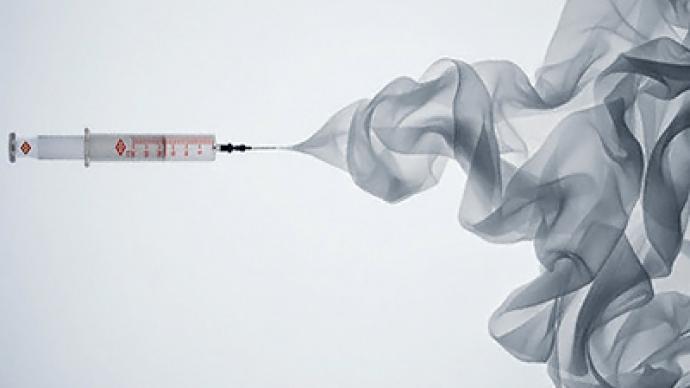 A drug designed as a cure is now being used to kill on America's death row. But human rights groups are alarmed that the powerful chemical may subject inmates to a lingering and painful death.
From a dog's life to a dog's death, prisoners on death row are now being killed with an animal drug. Pentobarbital is used to put pets to sleep but it has never been tested in human executions.Mia Fao from 'Reprieve' Prisoners' Rights Group fears this can cause excruciating pain."If something goes wrong and because we have no tests we cannot guarantee nothing will go wrong. So people are at risk of not just being killed but being tortured to death," she says. Pentobarbital has already been adopted in over 20 states. It is strictly an anesthetic and is normally just one ingredient in a lethal cocktail. But in Ohio it is killing alone."It is not a pain killer, we know that very well, " says Professor Christian Friis of the Faculty of Life Sciences at the University of Copenhagen. "So if you had other drugs with an analgesic effect with that, then you can be sure there is no pain. But the drug is not a pain killer itself, that's for sure".Pentobarbital is produced for a Danish company, Lundbeck. It is primarily used on humans to treat epilepsy and seizures. But it has already been used in nine executions.US prisons ran out of the usual sodium thiopenthal after Britain and Italy banned exports.But Denmark cannot do that because the new weapon is made in America.Despite owning the drug and opposing its misuse, Lundbeck's protests in the United States have been unsuccessful because the government there sanctions the death penalty. It is reluctant to remove pentobarbital from the market completely, saying it will do more harm than good. "Our problem is that this product has been on the American market for many years," says Anders Schroll, Lundbeck's spokesperson. "So we are in an ethical dilemma where we cannot just stop the production, withdraw it from the market because that would actually make patients come into life threatening situations. And that is the business dilemma we're in".Business indeed, as Lundbeck sells 50 million doses of pentobarbital every year. It claims it cannot prevent death row using it as a killer because of a complicated supply chain. But human rights groups do not buy it."People are beginning to realize that the statement 'there's nothing we can do' is a fallacy," says Mia Fao from 'Reprieve' Prisoners' Rights Group. "The pharmaceutical industry can do a lot and has a responsibility not to be complicit in executions."Reprieve claims Lundbeck has the power to control who gets the drug, since it does with other products. But that comes at a cost.At the moment Lundbeck's not budging and neither are US prisons, as they continue to use a federally approved drug designed to treat people, to kill instead.
Richard Dieter, Executive Director of the Death Penalty Information Center in Washington believes pentobarbital is not designed for execution, but rather for epilepsy. According to Dieter the problem is that no one knows how painful the drug is because they paralyze the inmate.Dieter explained how the US execution system has evolved over a series of methods – everything from hanging to electrocution to the gas chamber:"Finally, the lethal injection was introduced as supposedly a more humane method, as were the previous methods. Some states – Ohio being the most notable – are using simply one drug, the pentobarbital, and that causes the execution: it puts the inmate to sleep and causes death. That's a different approach than almost every other state is using".
While Lundbeck is embarrassed by the fact that they are used for executions, and is trying to find a way to block sales to US prisons, independent journalist Liliana Segura says it is a tactic that is unlikely to work. "History has really shown that states that are really devoted to the death penalty will find a way," she said. "On the other hand, the fact that Lundbeck has turned around and decided under pressure from activists that they no longer wanted any part in US executions is very important. I'm not optimistic about it meaning the end of the death penalty anytime soon in the US. It is certainly creating a big mess with states trying to find new drugs and new sources of drugs."