Ten dead, dozens injured in horrifying California crash (VIDEO)
Published time: 11 Apr, 2014 15:53
Edited time: 11 Apr, 2014 16:01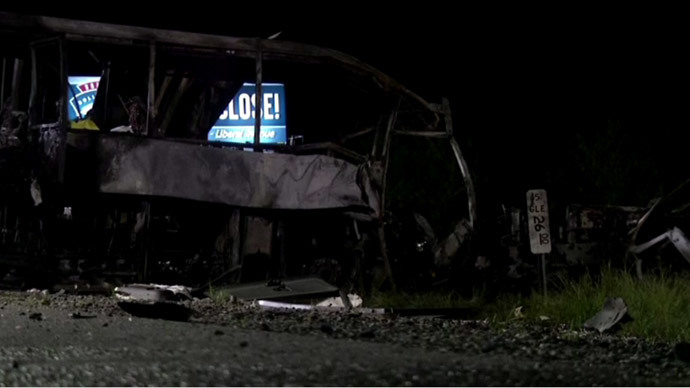 A deadly accident in northern California has taken the lives of 10 people – half of which were high school students – after a FedEx truck collided head-on with a tour bus heading towards a local university.
The collision occurred almost 100 miles north of Sacramento, near the city of Orland, and injured about 34 people. The two vehicles were driving in opposite directions on April 10 when the FedEx truck apparently crossed the divider on the interstate and slammed directly into the bus, which was carrying high school students to a tour of Humboldt State University.
"They are traumatized, absolutely," California Highway Patrol spokeswoman Tracy Hoover said to Reuters, referring to those injured. "Most of them have scratches, cuts, burns, contusions and lacerations - a magnitude of injuries."
"The big rig and the bus were both engulfed in flames," she added. "You are talking about two vehicles that are destroyed. There is hardly anything left of the truck."
Of those who died in the accident, five were high school students and three were chaperones. Both the bus and truck drivers were also killed. The identities of the victims remain unknown as authorities seek to confirm exactly who was on the bus at the time of the accident.
It's unclear why the FedEx driver crossed the median, or whether he lost control of his truck, but NBC News is reporting the National Transportation Safety Board has opened an investigation into the crash.
According to witnesses at the scene, the collision sounded like multiple explosions and both vehicles burst into flames.
"It was insane," 27-year-old Marc Smutny told the Los Angeles Times. "The bus was engulfed in flames, smoke in and out of the front," he said. "The bus looked like it took most of the hit. ... It was horrible."
One of the survivor's spoke with NBC's "Today" show about the accident, explaining that he had fallen sleep at the time of the accident. He woke up to find his fellow students screaming, and made his way out of the burning bus through one of the broken windows.
"There was an emergency exit but there were too many people in the bus trying to get out, so students that were there broke the windows, and that helped a lot of us get out safely — not safely, but get out of the bus," he said.
"When the impact hit, I flew from my seat to the seat in front of me and that caused the cut on my eyebrow. From there, I realized we were in a bad accident and the entire aisle was full of smoke, and that's when students were trying to escape the tour bus."
In a statement to the Times, California Gov. Jerry Brown and his wife Anne expressed "heartfelt and deep sympathies to the families, friends and loved ones of those who died in the tragic accident near Orland this evening."
"As we mourn the loss of those who died, we join all Californians in expressing our gratitude for the tireless work of the Red Cross and emergency personnel who responded bravely to this terrible tragedy."