NYPD lied under oath to prosecute Occupy activist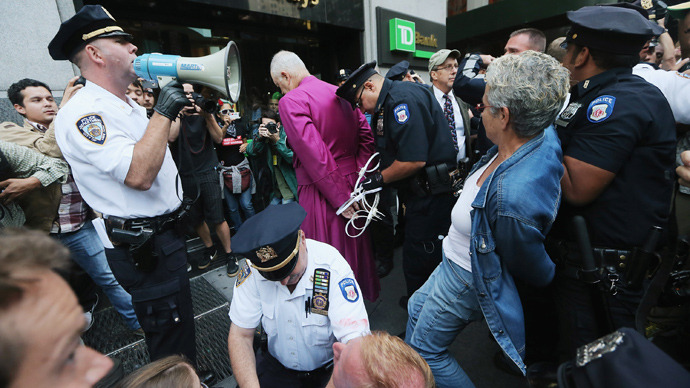 An Occupy Wall Street activist was acquitted of assaulting a police officer and other charges on Thursday after jurors were presented with video evidence that directly contradicted the NYPD's story.
Michael Premo was found innocent of all charges this week in regards to a case that stems from a December 17, 2011 Occupy Wall Street demonstration in Lower Manhattan. For over a year, prosecutors working on behalf of the New York Police Department have insisted that Premo, a known artist and activist, tackled an NYPD officer during a protest and in doing so inflicted enough damage to break a bone.
During court proceedings this week, Premo's attorney presented a video that showed officers charging into the defendant unprovoked. The Village Voice reports that jurors deliberated for several hours on Thursday and then elected to find Premo not guilty on all counts, which included a felony charge of assaulting an officer of the law.
Since his arrest, supporters of Premo have insisted on his innocence. "They're trying to make something out of nothing and they're trying to charge him with something that didn't actually occur," colleague Rachel Falcone told Free Speech Radio News this week.
After being arrested, the Manhattan District Attorney's office presented Premo with a deal that would have let him off the hook by pleading guilty to lesser charges. Maintaining his innocence, however, he was determined to fight the case in court.
Premo was "facing serious charges and potential substantial jail sentence, even though he never should have been arrested at all," his supporters claimed in a post published on The Laundromat Project website.
Nick Pinto of the Village Voice says he was nearby during the December 2011 rally and recalls watching Premo's arrest from a distance. In his report from court this week, Pinto explains how the details provided by the NYPD in this trial have been fabricated to such a degree that the allegations presented by the cops turned out to be literally the opposite of what occurred.
"Premo charged the police like a linebacker, taking out a lieutenant and resisting arrest so forcefully that he fractured an officer's bone. That's the story prosecutors told in Premo's trial, and it's the general story his arresting officer testified to under oath as well," Pinto writes. He adds that attorneys for the defendant underwent a lengthy search to try and find video that verified their own account yjpihj, and found one in the hands of Democracy Now. "Far from showing Premo tackling a police officer," writes Pinto, that video "shows cops tackling him as he attempted to get back on his feet."
The footage obtained from Democracy Now also showed that an NYPD officer was filming the arrest as well, but prosecutors told Premo's attorney that no such footage existed.
"There is no justice in the American justice system, but you can sometimes find it in a jury," Premo tweeted after he was acquitted this week.
In an interview given to NBC in 2012, Premo identified himself as a spokesperson for the Occupy Wall Street movement. He has also led an initiative in the New York area that have provided relief to those that endured last year's Superstorm Sandy and has also advocated for fair housing.
"The biggest thing for me coming out of this," he told the Voice, "is not being discouraged by the attempts of New York City to quell dissent and prevent us from expressing our constitutional rights."
You can share this story on social media: