LAPD in court for abusing journalist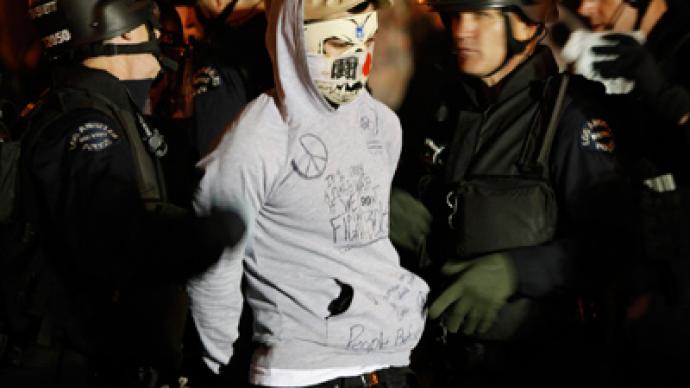 A long-time journalist is suing the Los Angeles Police Department over the alleged manhandling he says he was subjected to while covering an Occupy protest in LA last year.
Reporter Calvin Milam of Los Angeles' City News Service says police officers with the LAPD tackled him to the ground, restrained him in dangerously tight handcuffs and detained him for hours without charge, all while he was just doing his job as a journalist one evening in late 2011.Milam has insisted he displayed his press credentials to the LAPD during an Occupy LA rally outside City Hall on November 30, 2011 immediately before he was brought down by the cops.In the aftermath of the incident, police spokespersons described the scene by portraying Milam as drunk and disorderly during his arrest. The video footage that has surfaced seems to contract that take, however, and also clearly shows that Milam was acting as a member of the media."At some point, the Los Angeles police officers, in full riot gear, began to restrict the egress of those exercising their First Amendment rights and blocked access to leave the premises," the recently filed complaint reads. Milam's attorney, Mark Geragos, tells the Courthouse News Service that the only reason he client wasn't prosecuted was because video was found "which completely puts lie to what the cops said."When Geragos first became aware of the footage in the weeks after the arrest, he told LA Weekly that the footage was "completely at odds" with the accounts offered orally from both the LAPD and the City Attorney's Office."They patently lied about the whole thing. It's clear to me. I was told the exact same thing. It's fortunate there's a video which shows what really happened," he said last December. "They have now told you two things that are demonstrably false. One, that he didn't show his press credential. And two, that he was drunk. This guy hasn't touched a drink in 20 years.""It's astonishing to see that video and then see what was alleged: that he didn't identify himself, show press credentials and that he was resisting," Geragos now tells Courthouse News.LAPD officer Victor Johnson charged Mr. Milam with unlawful assembly during the Nov. 30 incident, but the charges were quickly dropped. He was one of three journalists arrested that night during an event that ended with around 300 being put into cuffs.Patrick Meighan, a writer for the animated show Family Guy, was one of the hundreds of persons who was arrested during the non-violent protest last year. Recounting the experience in a personal blog post, Meighan wrote that LAPD's actions that evening were "horrible to watch, and apparently designed to terrorize" anyone who could catch a glimpse."It was super violent, it hurt really really bad and he was doing it on purpose," is how he described his brutal arrest last year."What does it say about our country that nonviolent protesters are given the bottom of a police boot while those who steal hundreds of billions, do trillions worth of damage to our economy and shatter our social fabric for a generation are not only spared the zipcuffs but showered with rewards?"The City of Los Angeles has yet to respond to Mr. Milam's suit and litigation is "at a very early stage," Courthouse News reports.
You can share this story on social media: