Police claim to arrest Occupy activists with cache of weapons
Published time: 31 Dec, 2012 21:21
Edited time: 1 Jan, 2013 01:21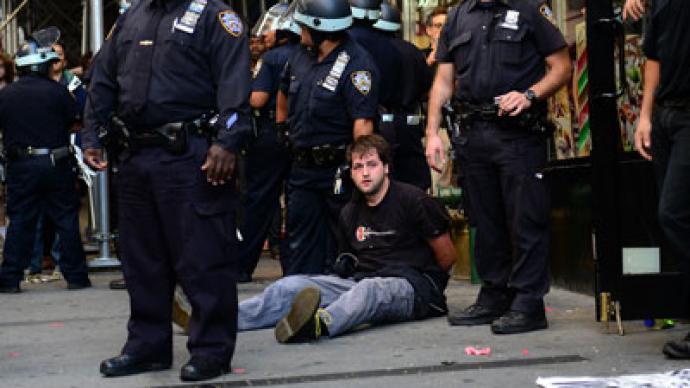 New York City police claim they found bomb-making materials and a 'Terrorist Encyclopedia' at the Greenwich Village home of a young Harvard graduate and his 9-month pregnant girlfriend.
Morgan Gliedman, 27, and boyfriend Aaron Greene, 31, were arrested on a weapons-possession charge after police officers say they found the dangerous materials in the couple's apartment, the New York Post reported. The officers claim they found 7 grams of HMTD, a highly explosive white powder, as well as an instructional stack of papers titled "The Terrorist Encyclopedia".

Police claim that they also discovered a flare launcher that replicates a grenade launcher, a modified 12 gauge Mossberg 500 shotgun, ammunition, and nine high-capacity rifle magazines, unnamed sources told the Post.
The officers obtained a search warrant to enter the apartment stemming from a case of credit card-theft, which Gliedman was allegedly wanted for.
The suspects come from privileged backgrounds that are unusual for suspected terrorists. Gliedman is the daughter of the well-respected Dr. Paul Gliedman, director of radiation oncology at the Beth Israel Hospital, Brooklyn Division, and Susyan Schops Gliedman, a realtor. In 2011, the young woman's father was listed as one of America's top doctors in New York Magazine.
Greene received both a Bachelor's and Master's degree from Harvard University and was an Occupy Wall Street activist.
Gliedman and Greene live together in an apartment in Greenwich Village and are expecting a baby. A neighbor who resides in the apartment at 8 West 9thStreet told the Gothamist that they are "hippie types". The unnamed man said Gliedman is "very friendly, very nice", whereas Greene is "kind of cold, not the type of person who encouraged politeness."
Some have begun to question the events of the strange arrest, which were surprising considering the couple's background. The Post reported the claims made by the New York Police Department, but did not report the defendant's case.
"The case really does have all the makings of a tabloid reporter's dream: a super-privileged mom-to-be, living in one of the cushiest neighborhoods in Manhattan, apparently devising bombs with her OWS boyfriend," writes Alexander Abad-Santos for The Atlantic. " What Gliedman and Greene were allegedly up to, of course, would be pretty terrifying no matter what neighborhood they were doing it in."
Authorities allege that Greene has had five run-ins with the police and was previously charged with assault and weapons possession.
Now, the Harvard grad will likely become the father of a newborn while imprisoned. Greene was arraigned Sunday and is being held without bail until his Jan. 4 hearing. Gliedman's arraignment has been delayed while she is in labor. She is currently in the hospital.
"The whole situation's sad," attorney Lisa Pelosi, who is representing Greene, told the Associated Press. She declined to comment about the case any further, leaving the details on the defendant's side unknown until the case progresses.