Everyone's a suspect: Colorado police handcuff every driver on the road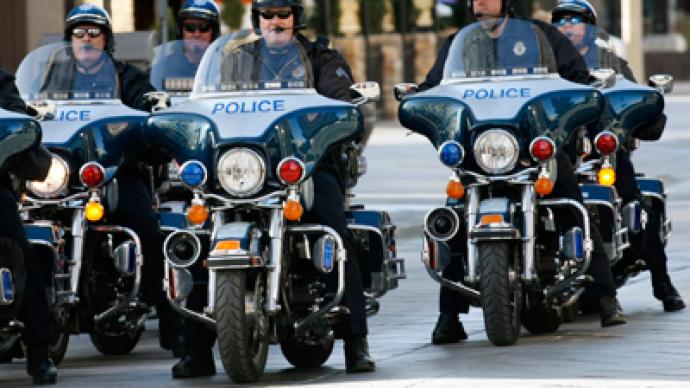 Reports of a bank robbery in Colorado this week prompted the police to make a split decision to try to catch the culprits. Cops held over a dozen people at gunpoint in Aurora, CO on Saturday while they searched for suspects.
A spokesperson for the Aurora Police Department is standing up for the way local law enforcement officers handled reports of a bank robbery this week. Working off of a "reliable" tip that an armed suspect was stopped at a red light after robbing a Wells Fargo bank branch, cops drew their guns and pointed at every driver and passenger halted at an Aurora intersection. Reports suggest that cops trapped as many as 40 cars and handcuffed at least 19 innocent people at gunpoint as they searched for an unknown suspect in the robbery. Some of those detained say that they were detained for two hours without charge while cops carried out a search for the suspects. One man was arrested In hindsight, though, cops say they weren't sure who exactly they were even looking for."Somebody made a quick decision to stop all of them and hold them and figure out what they were going to do next. We didn't have a vehicle description, we didn't even have his race," police spokesman Frank Fania tells The Denver Post.A "split-second decision was made to stop all the cars at that intersection, and search for the armed robber," Officer Fania adds to a local ABC affiliate. "Most of the adults were handcuffed, then were told what was going on and were asked for permission to search the car," Fania says. "They all granted permission, and once nothing was found in their cars, they were un-handcuffed."The Wells Fargo bank was held-up at gunpoint around 10 minutes before it was scheduled to close on Saturday afternoon by an unknown man whose face was obscured by a mask. Around 30 minutes after the robbery, police responded to a tip and tried to stop every automobile at the intersection of Iliff Avenue and Buckley Road in Aurora so they could seasrch for the suspect."Cops came in from every direction and just threw their car in front of my car," Sonya Romero, one of the drivers handcuffed, tells Denver's ABC 9 News . "We all got cuffed until they figured out who did what.""We didn't know if we were in the line of fire or what the hell was happening," adds Ben Barker, who watched from the sidelines as cops equipped with shotguns and rifles rounded up drivers and passengers.On Monday, the Federal Bureau of Investigation confirmed that Christian Paetsch, 45, had been arrested and charged for his alleged role in the Wells Fargo robbery. If convicted, Paetsch can face as much as 25 years behind bars. Denver's CBS 4 News says reports that Aurora Police Chief Daniel Oates apologized to the innocent bystanders that were detained on Monday and allegedly said that the ends justify the means since the suspect was caught."It's hard to say what normal is in a situation like this when you haven't dealt with a situation like this," Fania adds to ABC. "The result of the whole ordeal is that it paid off. We have arrested and charged a suspect."The FBI reports that between January 1, 2010 and December 31 of that year, 5,546 banks were robbed in the United States, averaging 15 a day.