Overmedicated Americans go violent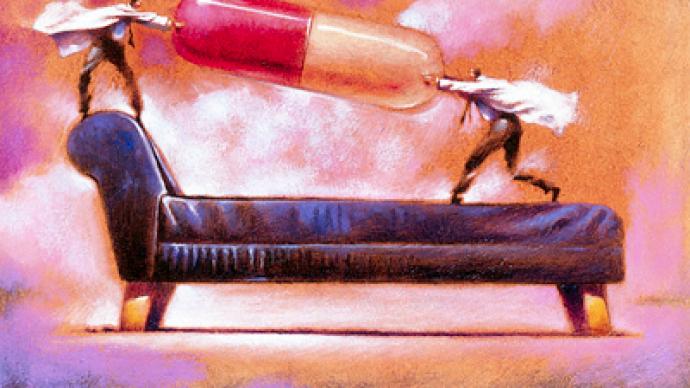 The good old days of robbing banks and liquor stores are going the way of the dinosaur as the new crime catching across America is knocking-over drugstores from coast to coast.
With more and more Americans developing addictions to prescription drugs, the country is experiencing a surge in violent crimes as fiends are taking drastic measures to fuel their fix.Prescription drug abuse is nothing new in America, but not only is the problem getting worse in the States, but an increasing number of addicts are resorting to violent crimes to avoid withdrawal.One study by the Substance Abuse and Mental Health Services Administration (SAMHSA) finds that prescription opiod abuse increased by 111 percent between 2004 and 2008, with almost 2 million Americans admitting to abusing the class of drug ever year, which includes codeine, hydrocodone, oxycodone and others. Expectedly, as use increases, so does misuse. SAMHSA figures reveal that those seeking treatment for opiod abuse made up only 8 percent of the total patient population in 1999, but ten years later that statistic has changed drastically, with one-third of treatment admissions being related to opiate abuse.In another study from the National Center on Addiction and Substance Abuse (CASA), 15 percent of American high schoolers admitted to abusing prescription pills."There has been a gradual increase in prescription pain killer admissions for quite a few years now. But it's still a great concern because it shows that it's a continuing problem out there," says Deborah Trunzo, of SAMHSA's Center for Behavioral Health Statistics to Medscape Medical News.With more and more people developing dependencies, a crime epidemic is overtaking America as addicts attempt to obtain opiates at all costs. This is far from a global crisis, too. Americans make up around 80 percent of the world's prescription painkiller users and abusers, reports IMS Health. And now, according to a report from the Centers for Disease Control and Prevention, prescription painkillers have surpassed illicit drugs such as heroin and cocaine as the leading cause of fatal overdoses.It's not the drugs themselves that are doing all the killing, though.Last month four people were murdered at a Long Island pharmacy when David Laffer allegedly open fired in a New York drug store after emptying the store of their entire supply of hydrocodone. His wife, Melinda Brady, was later charged in related crimes after she told police that her husband had committed the armed robbery so that she could have the pills. He killed a 17-year-old clerk and a middle-aged pharmacist before shooting a couple in the back of the head and taking hydrocodone-based drugs from the shelves.A month earlier across the country, an Oakland, California drug store was robbed at gunpoint by two masked men seeking a prescription narcotic cough syrup rich in codeine. If they don't abuse the tonic themselves, bottles can fetch upwards of $200 a piece on the streets. It seems almost too obvious to the California Board of Pharmacy's Virginia Herold."People want prescription drugs and they see pharmacies as where to get them,"  she tells Scripps Howard.65 pharmacies in the state of Florida were held up in 2010. In all the country saw 686 drug store robberies that year, an increase of 80 percent since 2006. While the drug-deal-gone-bad scenario is a stigma which is often associated with the poor and impoverished of inner-city America, RdPatrol, the country's only database for pharmacy crime, says around 80 percent of the incidents are perpetrated by white males."These are very typically addicts who possibly can no longer get controlled substances in the manner they used to get them," said Rick Zenuch, director of law enforcement liaison for Purdue Pharma, which makes the narcotic painkiller Oxycontin. "This really is a crime of desperation and that makes for a much more dangerous suspect."Andrew Kolodny, president of Physicians for Responsible Opioid Prescribing, tells the Associate Press that many patients are turned into addicts after taking legitimate prescriptions. Eventually, however, it is not uncommon for them to turn to crime if they are laid-off and left without their prescription but with an undying addiction."People with addiction who could be perfectly good people will do all sorts of horrible things to maintain their supply," Kolodny tells the AP.Pharmacist Greg Hamby agrees. Speaking to The Inquisitr recently, he says, "Many times . . . people can lose jobs and with certain things with health care we see lack of insurance now." "It seems to me the situation is becoming worse," he adds. He says that recently a man walked into his store, went behind the counter and held a clerk at knife point, demanding hydrocodone.These incidents are far from isolated and only getting worse. Mark Shirey, 51, robbed an Idaho pharmacy of their Oxycontin inventory after telling a clerk he had something in his briefcase that "could light the place up." Ten hours later a SWAT team busted into his house to take him into custody and recover the drugs. There, he resisted arrested.In Virginia, a 27-year-old white male tried robbing a Lynchburg drug store twice in one day. The second time, Michael Edward Towle entered the pharmacy with a three-foot-long samurai sword.Across the state in McLean, VA, Jonathan Ross Carlton, 23, was recently sentenced to 60 months in prison after robbing a string of pharmacies. He traveled throughout the Washington DC area taking 80 milligram pills of Oxycontin from drug stores. He used a gun to hold up several pharmacies, and managed to accumulate over 2,000 pills during his spree.In Camden, four years ago a Philly man pleaded guilty to robbing 13 pharmacies of Oxycontin, Oxycodone, Endocet and Xanax. He packed a semiautomatic handgun as he robbed drug stores throughout Philadelphia and New Jersey.After an incident in a middle-class Staten Island town, the employees there went with what they figures was the best solution to the spree — they made a sign for the front window: "We do not stock oxycodone or Roxicodone."As addicts try to snuff their itch and pack their wallets, this trend doesn't seem to be disappearing. In a Seattle courtroom last year, a 14-time felon talked about how he transitioned from vehicle prowling and a string of misdemeanors into drug store hold-ups:"Robbing pharmacies for OxyContin is the only way to go," said Jacob Harley Shook in court documents. He held-up a handful of Washington state drug stores with an array of guns.
You can share this story on social media: