Border agents accused of performing oral sex in circus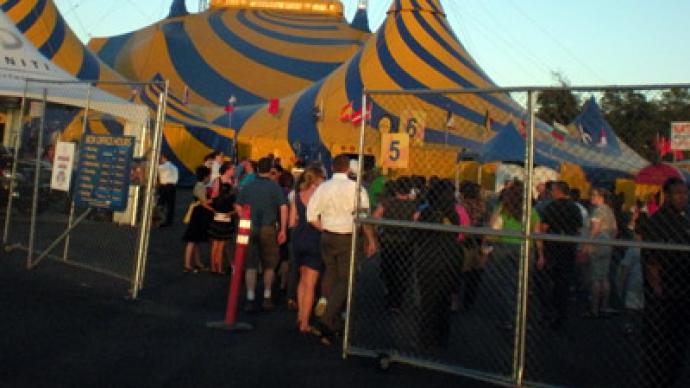 That's not face paint: two border patrol agents have been placed on paid administrative leave after allegedly engaging in oral sex while in the crowd of a recent Cirque du Solei performance, then punching a doctor that witnessed the incident.
Agents Kallie Helwig, 24, and Gerald Torello, 35, are still on the US Border Patrol payroll but are being investigated after witnesses alongside them in the audience during a May 27 Cirque du Soleil event say they saw the younger of the two off-duty agents perform a sex act on the other. According to one of the spectators in the crowd, young children were at the Del Mar Fairgrounds in Southern California last month hoping to catch a performance of the highly acclaimed circus troop but instead received a front-row seat at a whole other type of event. "She had her head in his lap. It looked like her head and her hand where moving up and down and it looked like she was giving him oral sex in public," a witness who gives her name only as 'Jenny' tells local network CBS 8 News. "Her head and her hands were moving up and down rhythmically," she adds to ABC 10 News. "I could only assume that there was some sort of sex act being performed.""Two young children that were sitting in the row in front of them had turned around and were watching them," she explains.The witness says that she tried to alert security guards in the building using the light on her cell phone but things didn't really heat up until she tried to leave the building after the performance. "While I'm watching her, she's staring at me and she's throwing punches in the air. And you can hear the guy saying, 'You can take her, babe. I got your back,'" she tells CBS."Next thing I knew, she punches me on my left temple," Jenny adds to an ABC News affiliate. "I didn't feel the other two hits. She hit me on the right side of my jaw and the left side of my jaw."Describing the aftermath of the incident to CBS, Jenny says walked away with "a black eye and a knot in my forehead." Mr. Torello, on the other hand, was detained for being drunk in public and later released. Ms. Helwig was cited on the scene with a misdemeanor charge for battery after she repeatedly struck the eyewitness in the head. Neither of the two agents were reprimanded for the alleged sex act. According to the official police report, they have an alibi that just might stick:"She wasn't feeling well so she had her head on (Agent) Torello's lap and he was rubbing her stomach," the report reads.US Border Patrol Special Operations Supervisor Steven Pitts issued a statement after the media initially picked up on the story saying that "every allegation of misconduct seriously and each allegation is investigated." The two agents have since been put on administrative leave and Jenny says she plans to file a lawsuit against both border patrol officers and Cirque du Soleil security.