'Not gay enough' ballplayers get the shaft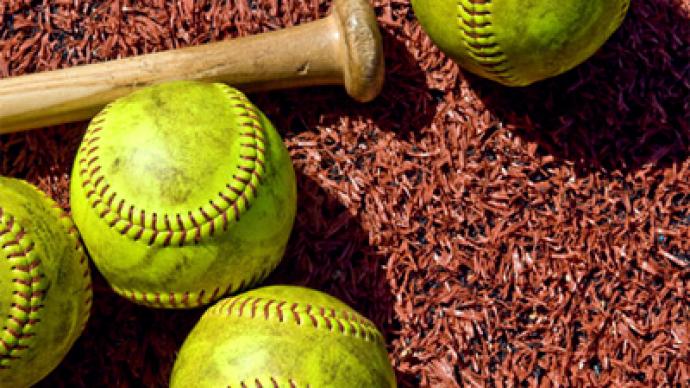 After a San Francisco gay sports league told three bisexual men that they couldn't play ball, a national alliance for homosexual athletics is awarding the players an undisclosed sum to settle a discrimination lawsuit.
Steven Apilado, Laron Charles and John Russ were part of the San Francisco Gay Softball League for years; until they were booted from the league in 2008 for being too straight, that is. Now the three men stand to receive a settlement from the North American Gay Amateur Athletic Alliance after they filed a discrimination lawsuit against the association.According to the men's attorney, the league deemed them"not gay enough" and questioned their "perceived heterosexuality." The trio vouched that they were bisexual, favoring both men and women, but the league said that they had to chose between being either straight or gay.The three men were stripped of their roster positions and trophies shortly after coming in second at the 2008 Gay Softball World Series. The decision came after rumors circulating that their team, D2, was full of straight ringers; the league then confronted the men about their sexual orientation.The league conducted a hearing after the men complained of being kicked from their team and lost their trophy in order to determine just how gay they were. According to a legal complaint, they answered intrusive questions about their sexual and private lives before a committee of more than two dozen people — some strangers — before the league decided that their supposed bisexuality didn't make them gay enough to participate.After the hearing, the league found two other men of question to be gay, but decided that Apilado, Charles and Russ were too straight-leaning to be considered gay. Charles, who was also the manager of D2, said that the committee told them that the three men had to align to either homosexuality or heterosexuality — not in any gray area in-between."This is the Gay World Series, not the Bisexual World Series," they say the league lectured them.League rules allow for two straight players per team. Only last week, US District Judge John Coughenour ruled that the alliance had a constitutional right to set a number of straight players as to promote that openly gay, bisexual and transgendered individuals can actively participate in competitive sports. "It is reasonable that an organization seeking to limit participation to gay athletes would require members to express whether or not they are gay athletes," wrote Coughenour. In response to the ruling, NAGAAA's commissioner said, "This lawsuit threatened not only the purpose of our organization, but also its future. We fought hard to protect ourselves and our core identity and I am relieved this issue is finally behind us."Judge Coughenour allowed the men to pursue their discrimination suit, however, given that the trio said the questioning they were forced into was highly discriminating. Before the suit could go before a jury, the NAGAAA settled on Monday. "This is an amazing result," their attorney Suzanne Thomas told reporters on Monday. "It's also an opportunity to put a spotlight on significant discrimination in sports against the LBGT community, and going forward we will look at this as an opportunity to provide additional education about this discrimination."In the settlement, the NAGAAA says that they regret "the impacts the 2008 protest hearing had on plaintiffs and their team." "It means a lot to me that NAGAAA is going to recognize our second place finish in 2008," Charles responded in a statement.In additional to monetary compensation, Apilado, Charles and Russ will finally get their second place trophy.
You can share this story on social media: