"God Hates Fags" lectures for FBI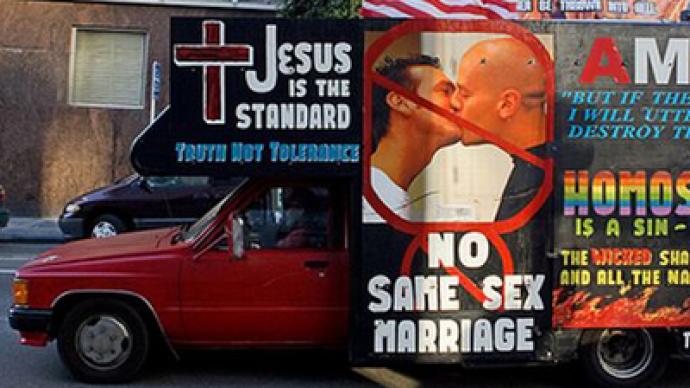 With counter-protests constantly being called together across the country to rally against demonstrations from the anti-Gay Westboro Baptist Church, Pastor Fred Phelp's coalition has found a rather curious cohort — with the FBI.
A recent report by National Public Radio has linked the controversial sect that commonly pickets military funerals with signs claiming "God Hates Fags" and "God Hates America" to the Federal Bureau of Investigation. The Westboro Baptist Church has been in operation since 1991 and is known for blaming the deaths of soldiers on America's tolerance for homosexuality. And since 2008, the FBI has invited members of the group to lead lectures at military bases in both Quantico and Manassass, Virginia.Just this spring the FBI put a stop to further speeches from church members, but only after four sessions occurred this season alone. According to Timothy Phelps, a church leader and son of Pastor Fred Phelps, the group was invited so that agents could learn "how to stay measured when they are speaking with a witness or a suspect with whom they have a strong, visceral disagreement," he tells NPR.The FBI, however, attests that the meetings were rather put together so officials could get an up close look at domestic terrorists to better understand them. Police officers from several different states were also called in to participate in the training sessions. The agency says the church knew their actual intentions, but the younger Phelps says he was unaware of the FBI's true game plan.More eloquently, FBI spokesman Paul Bresson tells The Associated Press that the invitation "was done in an effort to establish open dialogue in an academic setting to train law enforcement on how to more effectively engage with the activist community."Phelps says each session he hosted had an audience of around 50 FBI agents, and explains to NPR that he walked into each lecture with a regular agenda:"We did an opening dialogue about the history of the church and what led us to this point in our ministry and specifically led us to the point where we were holding protests or pickets in proximity to the soldiers' funerals. Then the class opened up and they were entitled to ask any questions they wanted."Phelps adds, "Some of the students in the class take the gloves off and basically push the envelope about, 'what will happen when the day comes that your so-called leader tells you to use violence,'" but in all instances he backed up his religion's beliefs and refused to buy into the egging on from agents.By the time the lecture series was retired, hundreds of agents and officers had already attended the speeches. Speaking on condition of anonymity, the FBI official behind the program says he wanted agents to learn how to engage with people that shared opposite opinion and find ways to build relationships with them.An eventual memo from Thomas Brown, assistant director of the FBI's Trainign Division pulled the plug on the program with a one line letter to his staff, however. In just a few words it bluntly stated that the FBI will not invite Westboro members to any of its training sessions. Again. Phelps tells NPR that he wouldn't be surprised if the FBI was lying to him about their real intentions, noting that "Law enforcement across this nation uses false information frequently with us." He adds, however, that he would go back to speak again.
You can share this story on social media: