Gay rumors complicate Rick Perry's presidential prospects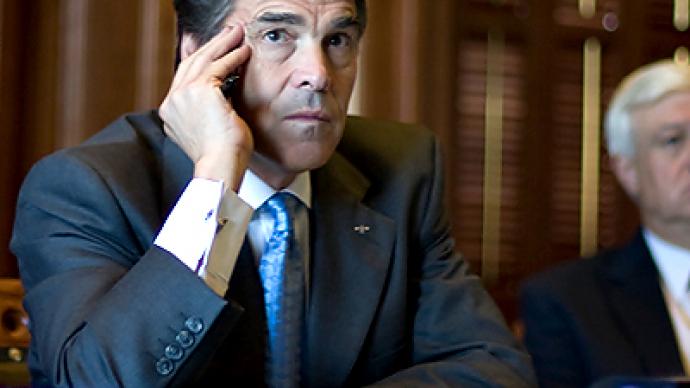 Texas Governor Rick Perry thinks he has enough support to win the Republican nomination for the 2012 election, but rumors about his sexuality might cost him his chance, his camp says.
Politico is reporting that Perry's team is preparing to take on rumors that the politician is a homosexual. Stories that began circulating years ago about his sexual orientation became so widespread that Perry had to issue a public denial in 2004. Speaking then, the governor said the rumors were "not correct in any shape, form or fashion," and called them "irresponsible" and "salacious.""They're hurtful to my family," he added.Even still, a smear campaign from Perry's opponents may be on the horizon and surely they will arise the same speculation that surrounded him years earlier. Politico, a DC-based site covering all-things Washington, reports that attendees at a Texas dinner that Perry spoke at last week whispered over the allegations. Now nearly a decade after stories began to surface, The Drudge Report and Huntington Post are both reporting on what toll the rumor mill can have on his campaign, should Perry chose to run. Dave Carney, a strategist for the governor, tells Politico that "This kind of nameless, faceless smear campaign is run against the Perry family in seemingly every campaign, with no basis, truth or success.""Texas politics is a full contact sport, live hand grenades and all; unfortunately there are always going to be some people who feel the need to spread false and misleading rumors to advance their own political agenda," he adds.Blogger Mike Stark of The Stark Reports published a post last year where he aired a rumor that the governor was having a gay relationship with two members of his staff and that his wife was aware of the affairs but was sworn to secrecy. Other variations of this story and tales of his alleged homosexuality have existed throughout his career.In 2009, Perry opponent Kay Bailey Hutchison was found to have "rick perry gay" as one of the terms embedded in her campaign site to aid in search engine optimization. A rep for Kay responded that they did not know how the "offensive word" made its way onto the site. Perry met his wife Anita in 1966 while the two were still in grade school. They were wed in 1982 and have two adult children.
You can share this story on social media: