Porn XXX domain names now up for sale
Published time: 6 Dec, 2011 22:26
Edited time: 7 Dec, 2011 02:26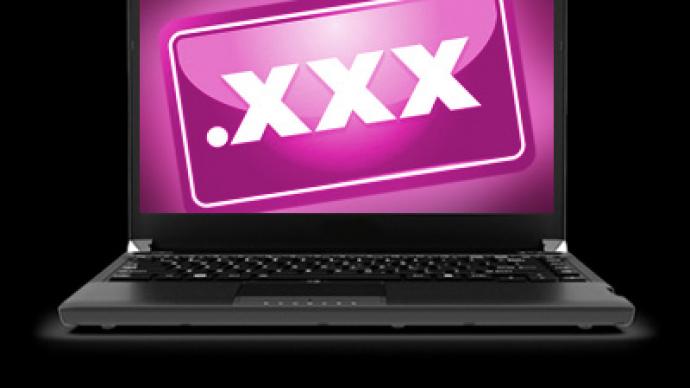 Webmasters, entrepreneurs and budding pornographers alike yanked their credit cards from their pockets worldwide this morning to purchase highly-anticipated .xxx domain names as they finally became publically available.
The official registrar for the urls, ICM, says that the move is ten years in the making and comes as a maneuver to put as much pornography as it can under a single Internet umbrella, creating a safer network of smut for all surfers of the Web. While the online world is largely dominated by xxx-material, only those with the new domain extension will be scanned daily for malware by McCafee, keeping the consumer confident that the porno they're perusing won't be voluminous with viruses. Owners of .xxx website will also be responsible for following a series of self-regulation practices in order to keep their sites safe from children and other unwanted audiences.
Around 100,000 websites with the xxx domain extension went live today, reports PC World, after a select audience was already offered an opportunity to pick out their own pornish urls.
"We would hope that the number of domains sold will more than double very quickly," Stuart Lawley, CEO of ICM Registry, tells BBC News. On Tuesday, the .xxx website that clues consumers in on purchasing the extension for their own services was receiving over one million visitors daily. They had originally pitched the idea of the extension all the way back in 2000.
"The public response has been overwhelming as consumers and the adult entertainment providers are excited about the benefits and infinite possibilities of .xxx," Lawley adds in an official release today.
For others, however, the move to make .xxx names available will ravage the online pornography biz.
Manwin Licensing and Digital Playground, two giants within the industry, intend on taking ICM to court. They call the registrar's running of the domain extension unjust and detrimental to the future of the industry.
"This . . . uncovers a pernicious monopoly at the very heart of the internet," Fabian Thylmann, managing partner of Manwin, tells BBC. Manwin, based out of Luxembourg, runs Playboy.com and other web sites with proven success in the same vein. "We oppose the .xxx domain and all it stands for," Thylmann, adds in a news release. "It is my opinion that .xxx domain is an anticompetitive business practice that works a disservice to all companies that do business on the Internet."
Those against pornography in general have also lashed against the new service, saying that it only perpetuates the filth of pornography on the World Wide Web.
"The establishment of a .xxx domain would increase, not decrease, the spread of pornography on the Internet, causing even more harm to children, families and communities," Patrick Trueman, CEO of Morality in Media, tells CNN.
Others have expressed outrage over having to buy up .xxx domains for non websites with non-pornographic counterparts on the .com realm in an attempt to keep domain squatters from stealing their likeness. In the fallout of the Penn State child molestation scandal, the university paid $200 apiece on four PSU-related domains with an .xxx extension. Northwestern University, the University of Chicago and Illinois State University are among other schools that have followed suit as well.
"We don't want someone coming across our trademark on a porn site," Terry Robb, director of information technology at the University of Missouri-Columbia, tells the St. Louis Post-Dispatch. "God only knows what they'd come up with." Robb's institute spent hundreds on buying missouri.xxx and missouritigers.xxx before others could.
Easyspace, one of the largest domain registrars in the UK, tells PC World that four-out-of-five of its businesses have purchased .xxx domains to keep others from anchoring onto them, although none of them are clients with pornographic material.
Manwin has announced that its sites, including Playboy.com, will prohibit work contracts with any .xxx-affiliated pages, including advertisers, and has additionally filed an antitrust lawsuit. They are going after the Internet Corporation for Assigned Names and Numbers (Icann), which oversees web addresses, in addition to ICM.
ICM believes that that suit is without merit though, and says that their move is being made to let the audience know exactly what kind of site they are going to before the click a link. "While adult entertainment is enjoyable to many adults, it is not appropriate for all audiences," he says. "We created .xxx to address the unique needs of the online adult entertainment industry."
Manwin has also gone after ICM for charging up to 10-times what .com website domains go for, though Lawley tells BBC that their fees are "comparable with other niche providers."
"There are economies of scale here, bear in mind that .com sells 100 million names a year," he adds.
Opposition against the .xxx has existed since the porn wheels were put in motion over a decade ago, with Icann itself originally saying that the domain extension "did not appear to meet unmet needs." Following a series of appeals, however, the Icann board voted nine-to-three in March 2011 to go ahead with the registry after ICM asked three years earlier for an independent panel to review the situation.
"The adult entertainment industry has, and always will, account for a large amount of this content and while it is enjoyed by some, it is not suitable, or of interest, to all Internet users," adds the ICM in a statement on their site. "Regardless of your views on adult content, it's here to stay, so let's be adult about it."