New England braces for major snowstorm while Midwest tries to dig out
After dumping more than a foot of snow on parts of the Midwest, a major winter storm is heading toward New England, where it is expected to deliver the region's third straight weekend of significant snowfall.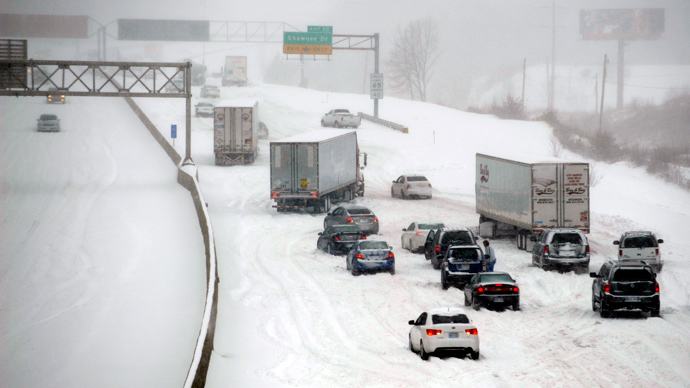 Residents of the Northeast are bundling up in anticipation of the latest winter storm, after having already endured a historic blizzard earlier this month. The winter weather system is expected to plague New Englanders with messy traffic and a dangerous commute.
The storm has already killed two people in the Midwest, including a 19-year-old Nebraskan woman who died in a two-car accident and an 18-year-old Oklahoma man whose vehicle slid off the road, according to the states' highway patrols.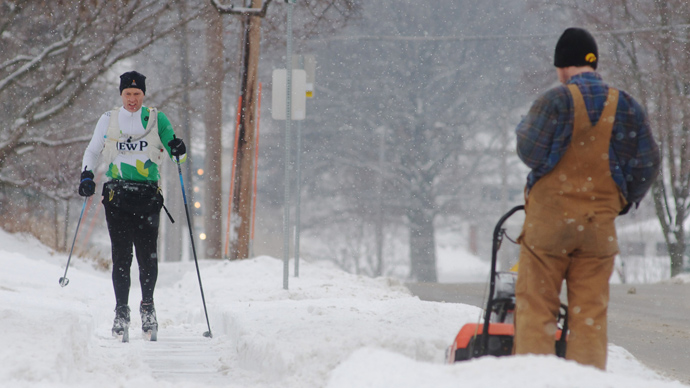 Kansas was buried in 15 inches of snow, prompting a 200-mile interstate highway to shut down, with cars stuck in the mess, some unable to move. The snowfall was so bad that the National Guard was dispatched to help stranded motorists get off the highway, spokeswoman for Kansas emergency management services Sharon Watson told the Associated Press.
About 60 buses and several tow trucks were also stranded in the buried streets of Kansas and Missouri, and the state is continuing to help drivers escape from the snow.
"It's still an ongoing process to get people off the roads," Kansas City Mayor Sly James told CNN.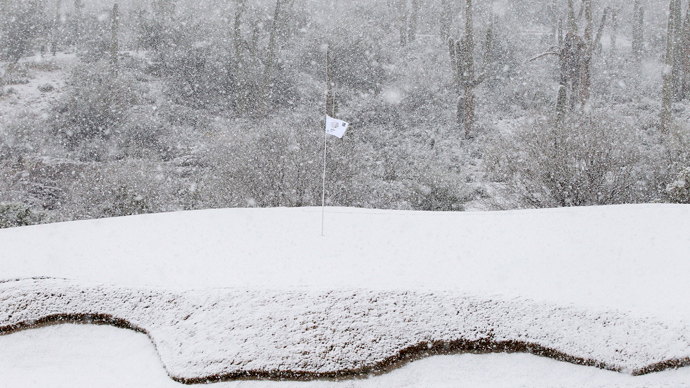 Midwest airports continued to remain inoperative, forcing 570 flight cancellations on Friday, 127 of which occurred at Chicago's O'Hare airport as the storm moved eastward. Nearly 200 snowplows worked through the night on Friday morning to clean up the city's streets before the morning commute.
And in Effingham, Illinois, 137 truckers who could no longer drive through the storm spent Thursday night in a parking lot, AP reports.
"When it gets really bad, they like to camp out," said Tia Schneider, who works as a cashier at the truck stop. "They can make reservations from 500 miles away to make sure a space is available."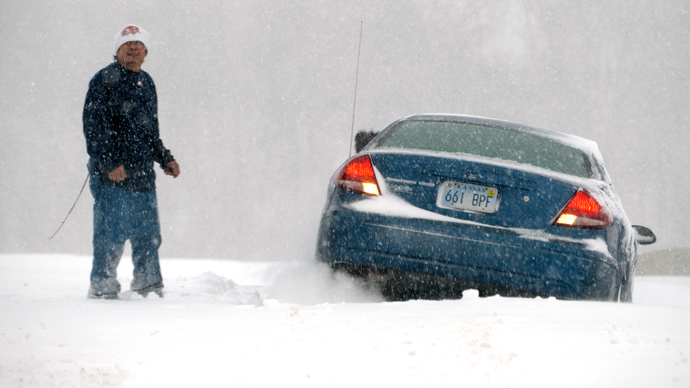 As Americans waited out the storm, state legislatures and schools shut down across Kansas, Missouri, Arkansas, Nebraska and Iowa. Numerous businesses and shopping malls also closed down on Thursday and Friday as residents were told to stay indoors.
"If you don't have to get out, just really, please, don't do it," said Kansas Gov. Sam Brownback.
While the worst of the storm has passed over the Midwest, the Northeast could once again experience another messy weekend as the storm system continues into New England on Saturday and Sunday, bringing slush, ice and snow from Connecticut to Maine.

You can share this story on social media: