Authorities start anti-looting campaign in the aftermath of Sandy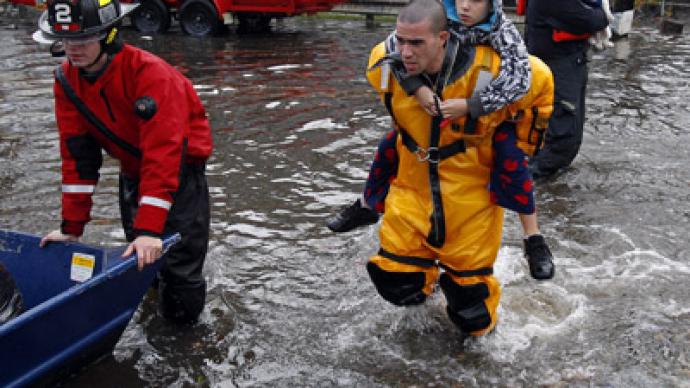 Firefighters in Philadelphia rescued a man from the rubble of a three-story building brought down as Hurricane Sandy swept through the East Coast, only for authorities to arrest him immediately on suspicion of looting.
An unidentified man was arrested for disorderly conduct in North Philadelphia, Pennsylvania late Monday after emergency workers reporting to the scene of a collapsed building found him buried beneath the structure. After being rescued, however, the suspect was ushered away by police, who suspected him of attempting to loot the site for copper and other items that could be sold.Officers tell a local NBC affiliate that the man would be charged with disorderly conduct.The downed building in North Philly was one of the largest losses in the area — structurally speaking — in the wake of Sandy, a freakish frakenstorm that battered down on the East Coast on Monday. Pennsylvania Emergency Management Agency spokeswomen Ruth Miller confirmed to the Associated Press late Monday evening that the storm had so far been responsible for no fewer than two deaths, and as of Tuesday morning more than 1.2 million electric customers across the state were still without power.Philadelphia Mayor Michael Nutter had ordered the continued shut-down of the city's schools and mass transit system on Tuesday as residents began to assess damages in the aftermath of a storm that has left millions in the dark from North Carolina through New England. In West Virginia, the storm even brought upwards of 17 inches of snow to some parts of the state.So far, though, the single arrest in Philadelphia has been the only reported case of looting during or after the superstorm, but authorities in some major cities say they are prepared for more. SeanMichael Pagano, an investigator with the New York State Police Department, tells Lacrosse Magazine that he has been moved to the force's "anti-looting patrol" instead of handling his usual assignments in the wake of the storm."People usually don't loot in the middle of a hurricane – they wait until the end – but the weather is kind of crazy," he tells the magazine.Much of New York City remains without power early Tuesday, leaving alarm systems and surveillance cameras unable to catch any would-be looters looking to take advantage of shops and homes hit by the storm.On the island of Jamaica, police ordered 48-hour curfews in major towns to try and keep people off the streets and deter looting during and after the storm rolled through, reports the AP.
You can share this story on social media: