Frankenstorm: An economic horror show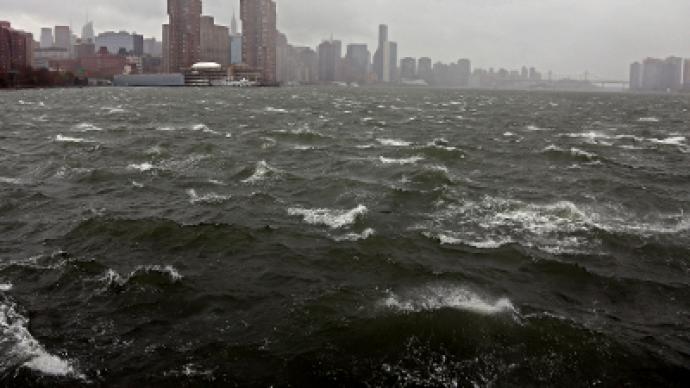 Hurricane Sandy, now dubbed "Frankenstorm" by US weather forecasters, is predicted to fall into the top 10 most costly hurricanes ever, with damage estimates reaching $20 billion.
The New York Stock Exchange and the Nasdaq were closed Monday and are likely to remain closed on Tuesday as Sandy is predicted to make landfall on the central New Jersey coast on Monday evening. This is the first unscheduled market-wide shutdown since the terrorist attacks of September 11, 2001 and the first full shutdown because of bad weather since Hurricane Gloria in 1985. S&P 500 futures fell 0.5% to 1,400 and Dow Jones futures retreated by 0.5% to 12,988 in the early hours of Monday morning as a result of the closure. In London, the FTSE All-World equity index was also down 0.2%. Analysts at French Bank Société Générale warned that the hurricane would have a sizable impact on US growth. The economic threat from Sandy comes just a week after figures showed that US gross domestic product grew a mediocre 2% in the third quarter of 2012. After making landfall, Sandy is expected to impact a number of major cities in the north east of the United States. New York, Boston, Philadelphia, Washington DC and Baltimore are all preparing for a battering.The storm is also expected to affect interior markets like Buffalo and Albany as well as Canadian cities such as Toronto and Ottawa.Sandy is predicted to impact between one fifth and one third of the US population, and for the most part the economic impact will be driven by insurance losses and a loss of production due to people staying at home.On Sunday, US carriers cancelled more than 7,000 flights to and from the Northeast corridor. Many transatlantic flights to and from Europe have also been cancelled.  The cancellations were in part due to New York Mayor Michael Bloomberg's decision to shut down the city's subway, bus and commuter rail services at 7pm on Sunday. Many retailers are also expected to suffer as a result of Sandy. Mall-based shops of non-essential goods such as sports gear, toys and jewelry stores will be hit as people stay at home. The actual costs will not be known until way after the storm subsides.But on the bright side, some business will gain from Hurricane Sandy, including hardware stores and gas stations, as people board to their homes before taking to the road.
You can share this story on social media: