Senate threatens to sanction countries that aid Snowden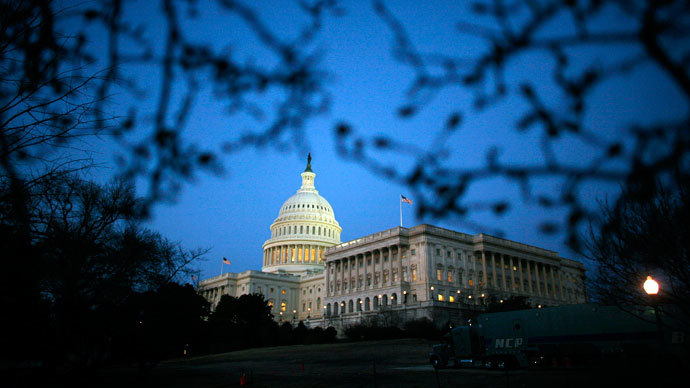 The Senate Appropriations Committee said Thursday that they want the Department of State to consider imposing sanctions on any nation willing to assist NSA leaker Edward Snowden.
A hearing held by the 30 member, bi-partisan Senate committee Thursday afternoon in Washington ended with a unanimous decision by way of voice vote to move towards sanctioning countries coming to the aid of the former intelligence analyst.
Snowden, 30, has been charged with espionage and other counts by the United States for leaking classified National Security Agency documents to the media. He has been on the run from authorities for nearly two months and is currently in Moscow awaiting the results of an asylum request filed with Russia's Federal Migration Service. Should the Kremlin come to Snowden's aid, however, some lawmakers in the US say the State Department should respond with sanctions.
On Thursday, one of the leaker's most vocal critics in Congress succeeded in having his colleagues advance a bill that directs the Secretary of State John Kerry "to consult with the appropriate congressional committees on sanction options against any country that provides asylum to Mr. Snowden, including revocation or suspension of trade privileges and preferences."
The bill's author, Sen. Lindsey Graham (R-South Carolina), told the committee, "I don't know if he's going to stay in Russia forever. I don't know where he's going to go . . . But I know this: That the right thing to do is to send him back home so he can face charges for the crimes he's allegedly committed."
An indictment against Snowden was unsealed last month while he was reportedly in hiding in Hong Kong. Just hours later, Snowden surfaced in Moscow and has since been confined to the transit area of the Sheremetyevo airport.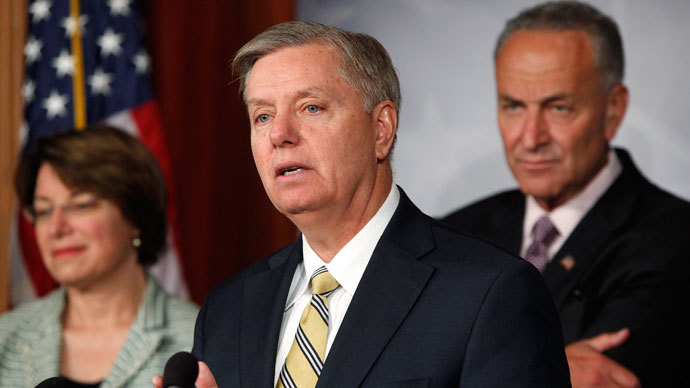 Snowden filed asylum requests with more than 20 countries, and has been offered assistance from Bolivia, Nicaragua and Venezuela. Earlier this week he met with his attorney at Sheremetyevo, who then told RT that Snowden is seeking Russian's permission to stay in the country indefinitely.
"He's planning to arrange his life here. He plans to get a job. And I think that all his further decisions will be made considering the situation he found himself in," attorney Anatoly Kucherena told RT.
Sen. Graham previously demanded Russia remove Snowden from the country and suggested the US boycott the Sochi Olympics if Pres. Vladimir Putin agrees to keep Snowden safe from the reach of American authorities. Last month Graham called the ordeal "an important test of the 'reset' in relations between our two countries," and said, "If our two nations are to have a constructive relationship moving forward, Russian cooperation in this matter is essential."
"On multiple fronts, Russia is becoming one of the bad actors in the world," Graham said previously. "Russia continues to provide cover to the Iranian nuclear program and sell sophisticated weapons to the Assad regime in Syria to butcher tens of thousands of its own citizens. For Russia to grant temporary asylum to Mr. Snowden on top of all this would do serious damage to our relationship. It is past time we send a strong message to President Putin about Russia's actions and this resolution will help accomplish that goal."
Speaking to the Senate committee on Thursday, Graham added, "When it comes to Russia, it's just not about Snowden."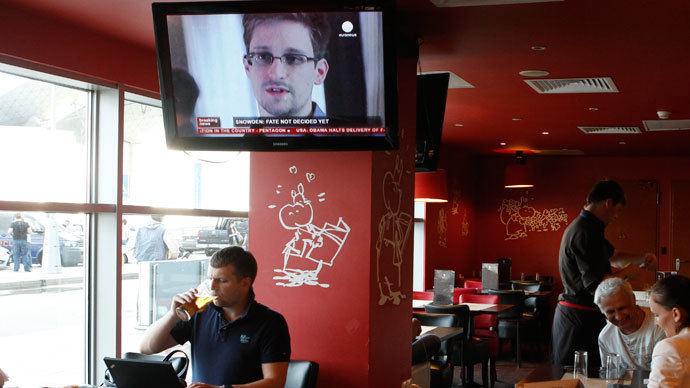 "They are allying with Iran, 100,000 Syrians have been killed, they are providing weapons to Assad that are getting in the hands of Hezbollah. And really enough's enough," the senator said of Russia.
Since Snowden surfaced at Sheremetyevo, the Obama administration has made repeated demands for Russia to honor their extradition request. White House press secretary Jay Carney said earlier this week that officials on both side of the pond remain engaged in discussion, and refused to comment on allegations that Pres. Obama might postpone a trip to Moscow scheduled for later this year.
Should the full Senate advance Sen. Graham's measure further, Sec. Kerry could be asked to intervene in the matter. Imposing a sanction against a country for refusing to extradite a US citizen could set an extraordinary precedent, though, as such embargoes are currently reserved for nations accused of arguably more heinous behavior. Among the countries currently sanctioned by the US are Belarus, Burma, ​Cote d'Ivoire, Cuba, Iran, Libya, North Korea, Somalia, Sudan, Syria and Zimbabwe.
That isn't to say Russia hasn't been hit with sanctions from Uncle Sam as of late. Earlier this year US officials passed the Magnitsky law, in turn imposing financial and visa sanctions on certain Russian officials involved in the case of Sergei Magnitsky.
You can share this story on social media: