'My asylee status now formal': Snowden declares 'acceptance' of all offers of asylum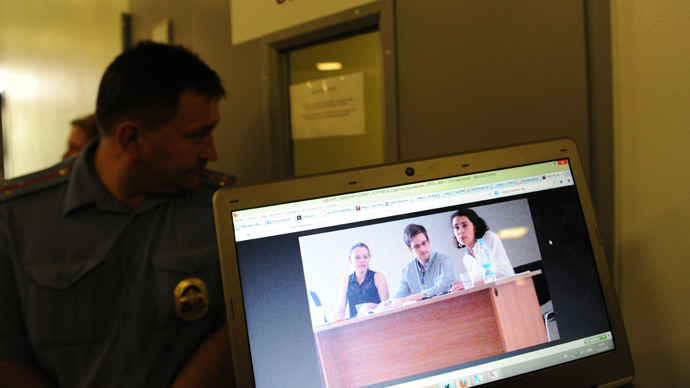 Edward Snowden says his asylum status is now official as he accepts all offers made to him. "No state has a basis by which to limit or interfere with my right to enjoy that asylum," he said in the statement published by WikiLeaks.
"I announce today my formal acceptance of all offers of support or asylum I have been extended and all others that may be offered in the future," Snowden stated on Friday during his meeting with rights activists and lawyers at Moscow's Sheremetyevo Airport.

"With, for example, the grant of asylum provided by Venezuela's President Maduro, my asylee status is now formal," his address reads. 
Snowden also said that he is going to seek asylum in Russia, since he cannot fly to Latin America yet. The whistleblower is set to submit his bid on Friday and hopes "it will be accepted favorably."

"I ask for your assistance in requesting guarantees of safe passage from the relevant nations in securing my travel to Latin America, as well as requesting asylum in Russia until such time as these states accede to law and my legal travel is permitted," he told the meeting, attended by some 13 representatives of rights organizations. 
RELEASE: Statement read by Edward #Snowden to human rights groups at Moscow airport today http://t.co/HEpWd0QFaG#snowden#nsa#prism

— WikiLeaks (@wikileaks) July 12, 2013
The former CIA employee is wanted in the US on charges of espionage after revealing secret NSA surveillance programs and could face the death penalty in his home country.  He fled American soil for Hong Kong in May and then flew to Moscow, where he has been stuck at the airport transit zone for almost three weeks. 
Addressing rights activists, he recalled that only a short while ago he had family, comfortable live and a home in paradise.
"I also had the capability without any warrant to search for, seize, and read your communications. Anyone's communications at any time. That is the power to change people's fates," Snowden stated, adding that such power is also a serious violation of the law. 
"The 4th and 5th Amendments to the Constitution of my country, Article 12 of the Universal Declaration of Human Rights, and numerous statutes and treaties forbid such systems of massive, pervasive surveillance," the whistleblower pointed out.
"While the US Constitution marks these programs as illegal, my government argues that secret court rulings, which the world is not permitted to see, somehow legitimize an illegal affair. These rulings simply corrupt the most basic notion of justice – that it must be seen to be done. The immoral cannot be made moral through the use of secret law," Snowden believes.

The 30-year-old explained what was behind his decision to leak the secret NSA spying programs.  He said he did what he believed to be right and "began a campaign to correct this wrongdoing." Snowden underlined that he did not seek to enrich himself, or to sell American secrets. 

"I took what I knew to the public, so what affects all of us can be discussed by all of us in the light of day, and I asked the world for justice," Snowden said, adding that he does not regret his decision.

The US has launched a persecution campaign in response, "threatening with sanctions" countries who stand up for Snowden's rights. The American government has "even taken the unprecedented step of ordering military allies to ground a Latin American president's plane in search of a political refugee," he said, referring to Bolivian aircraft incident.
"I have been made stateless and hounded for my act of political expression," the whistleblower added.
Snowden expressed his gratitude to countries that offered him asylum and support, despite "historically disproportionate aggression" by the US.

So far, three countries in Latin America – Venezuela, Bolivia and Nicaragua – said they could offer Asylum to the American whistleblower.
Russian President Vladimir Putin had earlier stated that Moscow would grant him asylum if he stopped activities aimed at harming "our American partners." 
Snowden agreed to Moscow's condition on Friday, according to Russian lawmaker Vyacheslav Nikonov, who took part in the Moscow meeting with the former CIA employee.
"He said he is aware of that condition and it would be easy for him to accept it. He is not going to harm the US because he is a patriot of his country," Nikonov told journalists after the gathering.
When asked whether Snowden had more revelations up his sleeve, Tatyana Lokshina of Human Rights Watch replied, "He says that his job is done."
Moscow could decide to grant political asylum to Snowden within two to three weeks, lawyer and Public Chamber member Anatoly Kucherena said.
You can share this story on social media: