Obama's fall visit to go ahead despite Snowden affair – Kremlin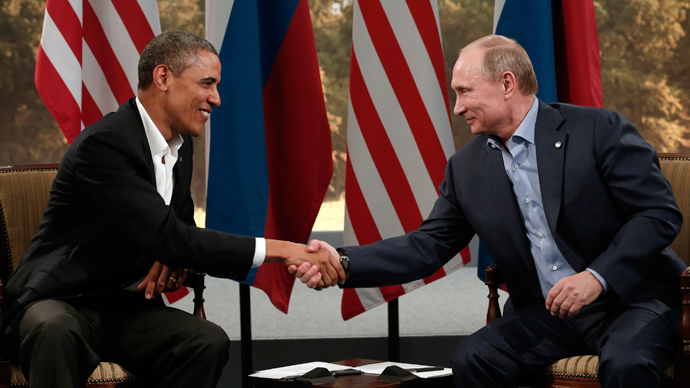 The preparations for the US President's visit to Moscow are going ahead and Russia has not been informed of a possible cancellation, Vladimir Putin's spokesman has said.
Dmitry Peskov commented on Monday after leading Russian daily Kommersant reported, quoting its own unnamed source in the US State Department, that Washington was considering the cancellation of Barack Obama's visit to Moscow in September if NSA leaker Edward Snowden was still in Russia at that time.
President Obama is expected to visit Moscow in early September to meet with Vladimir Putin ahead of the G20 summit in St. Petersburg.
"We are in constant contact with our American colleagues, trying to make the summit as charged as possible. The situation is crystal clear – it is not Russia's fault Snowden is unable to leave the transit zone," Peskov told the press.

At first, the US Embassy in Moscow on Monday declined to comment on the current situation regarding Edward Snowden saying only that all information about the official US position are contained in earlier statements by President Obama and the Department of State.

But later in the day US Ambassador to Russia Michael McFaul told the press that the US President still intends to visit Moscow in September, as planned, regardless of the situation with Snowden.
Bernadette Meehan, the press secretary of the US National Security Council, also told the press that the reports of the possible cancellation of the visit were wrong.
Edward Snowden has remained in the transit zone of Moscow's Sheremetyevo airport for over two weeks. He has reportedly applied for political asylum in Russia but withdrew the application after President Putin said Russia would only accept the former NSA contractor on the condition that he would cease his anti-American activities. Putin also said that Snowden was a free man who could go anywhere he wanted, apparently indicating that Russian authorities did not intend to detain the man while he was in the transit zone.
Snowden arrived to Russia as a transit passenger on the way from Hong Cong to Cuba, but did not board his flight to Havana and started forwarding asylum requests to various nations. So far, none of about 20 nations that he applied to have accepted him. Some countries rejected his request, and some said they will not even answer.
Three Latin American countries – Nicaragua, Venezuela and Bolivia – have said they are ready to grant Snowden asylum if he make as request. Cuban leader Raoul Castro voiced full support on Sunday but it remained unclear if Cuba was ready to accept the leaker.
Bolivia's apparent readiness to grant asylum to Snowden caused an international scandal last week. Several European countries denied entry to the Bolivian president's aircraft as it was heading home from Moscow. The move was motivated by a fear that Snowden could be on board and Evo Morales had to make an unplanned landing in Austria.
Venezuela blasted the move as a blatant violation of international law and the diplomatic code and Morales publicly blamed the United States for organizing the blockade.

You can share this story on social media: