Snowden deserves political asylum - Russian HR officials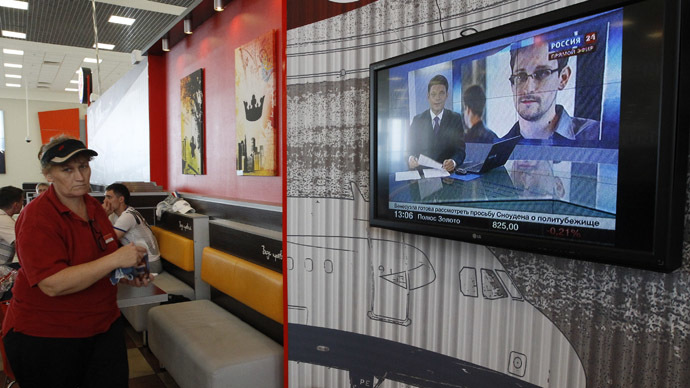 Members of the Russian Presidential Council for Human rights said that it would be justified if the US whistleblower Edward Snowden received political asylum in a country of his choice, including Russia.
The head of Russia's top official Human Rights Body, Mikhail Fedotov, told reporters on Wednesday that it would be just if some country grants Snowden political asylum. He added that the reports that the Venezuelan government was ready to look into such request were "raising good hope" and that it was his personal impression that the whistleblower "would get political asylum where he wants". 
"He must be granted protection regardless of national borders. And this does not apply only to Mr Snowden's story – this applies to Wikileaks founder Julian Assange, and many other people, including journalists – Russian and foreign – who disclose secrets in order to warn the society against dangers," the Interfax news agency quoted Fedotov as saying.
"Because of such people we become stronger and the special and diplomatic services must become smarter and understand what can be done in the modern transparent world and what cannot" Fedotov added.
Another member of the Human Rights Council, Kirill Kabanov, said Edward Snowden should not be handed over to the United States as this would violate his personal rights.
"It goes without saying that Snowden acted as a Human Rights advocate but right now the US authorities are very resolute in their intention to punish him. My opinion is that we should take a very precise position – no handover," Kabanov told the ITAR-TASS news agency.
The initiative was supported by yet another member of the HR body, the head of the Moscow Bureau for Human Rights Aleksandr Brod. The activist said that the threat to Snowden's life  really existed and thus, Russian authorities must openly state their position.
"The man was defending the principles on which the United States had been based  for a long time but which the current US authorities are ignoring. He is facing a life sentence or execution by a firing squad. We must help him in this very difficult situation," stated Veronika Krasheninnikova, the head of the major Russian political think tank Institute of Foreign Policy Research and Initiatives.
These views are shared by the head of the Lower House committee for Foreign affairs Aleksey Pushkov who called Snowden, Assange and Bradley Manning "new dissidents" in his Wednesday Twitter post.
"Assange Manning and Snowden were not spies, they did not disclose classified information for money, but did so because of their beliefs. They are new dissidents, fighters against the system," Pushkov wrote.
Also on Wednesday the Russian Upper House set up a commission that would look into Snowden's reports and connected data to investigate possible violations of Russian citizens' rights by US special services. Senator Ruslan Gattarov who presented the group noted in his speech that the Russian authorities had sent an official letter to the US demanding explanations, but it was simply ignored.
Former NSA contractor Edward Snowden caused a major international scandal after he disclosed his agency's eavesdropping on thousands of ordinary unsuspecting citizens in the USA and in other countries. Snowden spent some time in Hong Kong, reportedly arrived to Moscow on Sunday and is still staying in an airport transit zone. It was expected that the whistleblower would fly to Ecuador that could grant him asylum but so far it apparently has not happened.
President Vladimir Putin on Tuesday confirmed that Snowden was in Moscow as a transit passenger and rejected the US demands of extradition.
"We can only extradite foreign citizens to such countries with which we have signed the appropriate international agreements on criminal extradition," Putin said, adding that as Snowden had committed no crime on Russian soil, he is free to travel at will.
"Snowden is a free person. The sooner he chooses his final destination, the better it is for him and Russia," Putin said.

You can share this story on social media: