White House: Russia shouldn't provide Snowden with 'propaganda platform'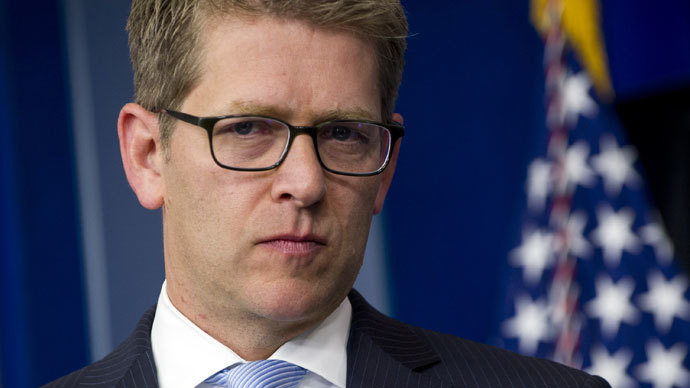 The White House said Friday that Russia granting political asylum to Edward Snowden would be on par with providing the National Security Agency leaker with a "propaganda platform" to further harm the United States.
During a scheduled briefing in Washington, DC Friday afternoon shortly after Mr. Snowden issued a statement of his own from Moscow, White House spokesperson Jay Carney said the administration's position on the leaker remains that he should be extradited to the US to face charges of espionage.
"Our position on Mr. Snowden and the felony charges against him and our belief that he ought to be returned to the United States to face those felony charges is as it was," Carney told reporters during an afternoon White House press conference.
US President Barack Obama and Russian President Vladimir Putin have discussed the Snowden issue on the phone, according to Putin's spokesman, Dmitry Peskov.

"The telephone conversation, suggested by Washington, took place between the Russian and the US presidents. Putin and Obama exchanged views on questions of bilateral partnership and security. Edward Snowden's case was also discussed."

Earlier, Carney confirmed that Obama had previously scheduled a phone conversation with the Russian leader for later Friday, during which the topic of Snowden's plight was expected to be addressed. Carney declined to make any comments about the phone call before it took place, but said, "I'm sure President Putin is aware of our views about Mr. Snowden."

Snowden announced earlier that he was officially seeking asylum from Russia. He has been awarded protection from a number of countries including Venezuela and Bolivia, but flight restrictions have left him unable to exit the transit lounge of Moscow's Sheremetyevo International Airport.
"I ask for your assistance in requesting guarantees of safe passage from the relevant nations in securing my travel to Latin America, as well as requesting asylum in Russia until such time as these states accede to law and my legal travel is permitted," Snowden wrote in a statement released early Friday by anti-secrecy website WikiLeaks. "I will be submitting my request to Russia today, and hope it will be accepted favorably."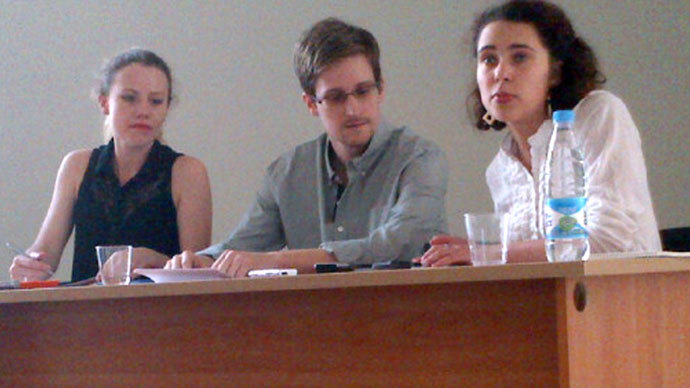 During the address hours later across the pond, Carney said the White House has communicated to Russia and a number of other countries that Snowden be sent back to the US immediately.
"I would simply say that providing a propaganda platform for Mr. Snowden runs counter to the Russian government's previous declarations of Russia's neutrality, and that they have no control over his presence in the airport," Carney said.
"It's also incompatible with Russia's assurances that they do not want Mr. Snowden to further damage US interests. But having said that, our position also remains that we don't believe this should — and we don't want it to — do harm to our important relationship with Russia, and we continue to discuss with Russia our strongly held view that there is absolutely legal justification for him to be expelled, for him to be returned to the United States, to face the charges that have been brought against him for the unauthorized leaking of classified information," the spokesman said.
When asked if there would be any repercussions with regards to US/Russia relations if Snowden's latest asylum request is granted, Carney told reporters, "I'm not going to speculate about something that hasn't happened."
"What I would say is we don't believe this issue should do harm to the relation between Russia and the United States, and we are working with the Russians and have made clear to the Russians our views about the fact that Mr. Snowden has been charged with very serious crimes and that he should be returned to the United States," Carney said.
Back home, said the spokesman, Snowden will "be granted full due process and every right available to him as a United States citizen facing our justice system under the Constitution."
"He is accused of leaking classified information, has been charged with three felony counts and should be returned to the United States where he will be afforded full due process," said Carney.
Supporters of the whistleblower have argued otherwise, however, and have cited the treatment of WikiLeaks source Bradley Manning as a reason to keep Snowden far away from the clutch of American authorities. Manning, who is currently on trial for his own leaks in Ft. Meade, Maryland, spent roughly ten months in isolation within a military brig in northern Virginia upon being arrested in 2010 on suspicion of cooperating with WikiLeaks. In all his pre-trial detainment extended for over three full years and included treatment that a special rapporteur for the United Nations has condemned as tantamount with torture.
"We know from at least three national security reporters that their sources are hesitant to speak to them," WikiLeaks founder Julian Assange said in a conference call with RT last month, "and explicitly cite the treatment of Bradley Manning as a reason as to why they are hesitant to disclose abuses by the United States government in the national security sector."
"So already the Manning prosecution is harming the quality of Western Democracy and the quality of reporting in the press," added Assange. "It is clear to me at this stage that Mr. Snowden will be very aggressively — is being very aggressively — pursued by the US national security sector."
Assange himself has been holed up in the Ecuadorian Embassy in London for over a year awaiting safe passage to Latin America where he has also been granted asylum but unable to exit the building without risking arrest.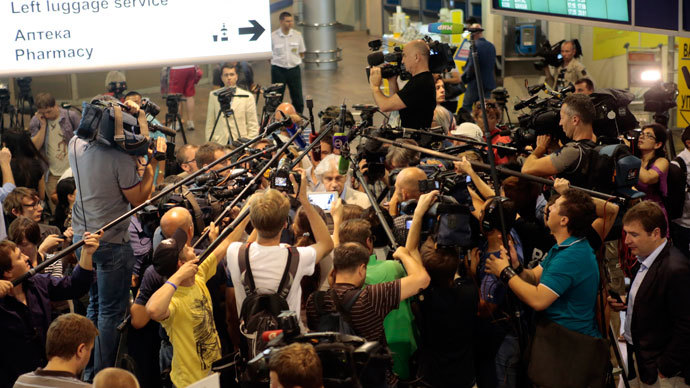 In his statement issued through WikiLeaks Friday, Snowden said he was appealing to human rights organizations since he believes that the US has committed multiple constitutional violations and infringed on Article 12 of the Universal Declaration of Human Rights by preventing him from traveling to the countries that have granted him protection.
"These dangerous escalations represent a threat not just to the dignity of Latin America, but to the basic rights shared by every person, every nation, to live free from persecution, and to seek and enjoy asylum," said Snowden.
When asked Friday if the White House is engaged in an unlawful campaign to deny Snowden "his right to seek asylum," Carney smirked and said, "No, it is not."
"He has been charged under the law with three felonies — very serious crimes — and every aspect of the United States system of justice is available to him upon his return to the US to face those charges," said Carney. If Snowden is sent back to America, he insisted, he will "face justice in a system that affords defendants all the rights that every American citizen enjoys."
You can share this story on social media: