Al Sharpton informed against NY mob families for the feds – report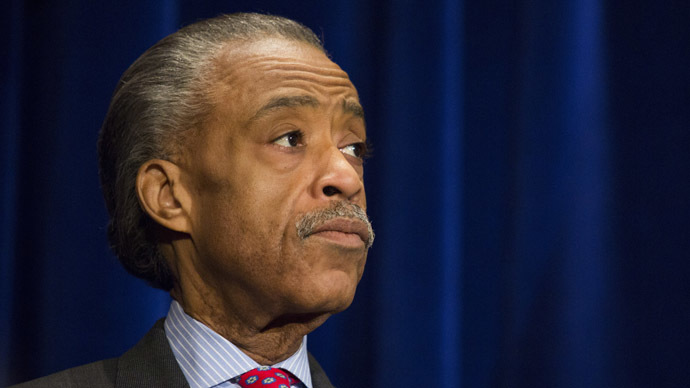 ​Civil rights activist and television personality Al Sharpton was an FBI informant in the 1980s, working with law enforcement to take down members of the Genovese crime family, according to a new report.
While Sharpton has admitted to working with the FBI in the '80s, TheSmokingGun.com, citing new documents and exclusive interviews with investigators, found that Sharpton was equipped with a bugged briefcase by New York Police Department and FBI investigators in order to capture interactions with four of the five New York City crime families.
The website's report claimed Sharpton, known as "CI (confidential informant) 7," helped the FBI attain court orders to wire two Genovese family clubs - including former boss Vincent "The Chin" Gigante's headquarters, cars used by the mob, and over three dozen phone lines, including Gigante's.
The report said that Sharpton – who had access to mob figures while he worked in the music and boxing industries – cooperated with the FBI/NYPD Organized Crime Task Force, which strived to conceal Sharpton's identity because the undercover work was life threatening.
Sharpton allegedly took part in 10 face-to-face meetings with Joseph (Joe Bana) Buonanno, of the Gambino family, and turned incriminating information over to the feds. FBI agent John Pritchard paid Sharpton small sums for the work, the report stated.
Sharpton, also a Baptist minister and founder of the National Youth Movement, denied the moniker "informant" to New York Daily News, but did acknowledge that he worked with the FBI beginning in 1983. He says he contacted the FBI after receiving threats from Buonanno and others for his activism in the music industry.
"If you're a victim of a threat, you're not an informant — you're a victim trying to protect yourself," he told New York Daily News.
He added that his conversations were recorded, though he denied using a bugged briefcase. He also said he was never paid, but was reimbursed for travel.
"I encourage kids all the time to work with law enforcement," he said. "You're acting like it's a scandal for me to do that?"
The report said that prior to being a supposed informant, Sharpton was recorded amid an FBI undercover drug sting. Though he did not explicitly arrange a drug deal, the feds then had information enough to coax Sharpton into working with them, according to the report.
Sharpton told the New York Post that the report exaggerated his work with the FBI.
"It's crazy. If I provided all the information they claimed I provided, I should be given a ticker-tape parade," Sharpton said.
He told New York Daily News that he has no idea how any of the information he provided was used.
"I was never told I was an informant or I had a number or none of that," he said. "Whether or not they used some of the other information they got during that period for other purposes, I don't know."
The report comes days before Sharpton's social justice non-profit National Action Network will hold a three-day conference in New York that will include appearances by New York Mayor Bill de Blasio and US President Barack Obama.
You can share this story on social media: