NYPD a 'quasi-military organization,' according to outgoing top-cop Ray Kelly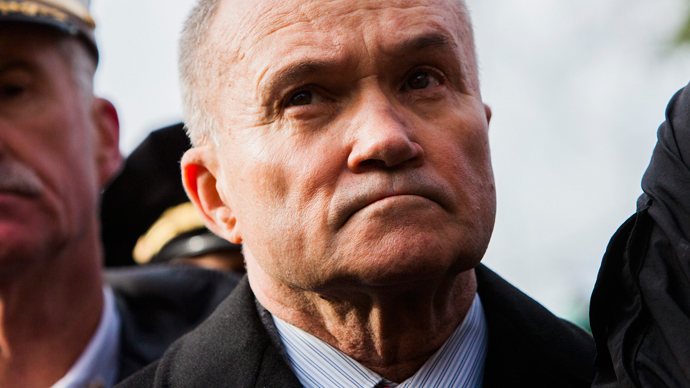 During the last few hours of a lengthy tenure atop the New York Police Department tainted by both scandal and success, outgoing-NYPD Commissioner Ray Kelly echoed soon-to-be-ex-Mayor Michael Bloomberg with big words about the city's boys in blue.
Bloomberg provoked a fair share of criticism from Big Apple residents in late 2011 when he said, "I have my own army in the NYPD . . . the seventh biggest army in the world."
Two years later and new comments from Commissioner Kelly might make the same sort of splash.
The increased militarization of the NYPD and other big city police agencies had already caused concern among many by the mayor's remarks that November, but both Bloomberg and Kelly's handling of the Occupy Wall Street demonstrations in Lower Manhattan that autumn and into the winter attracted previously unmatched opposition. Within just a few short months the city had arrested hundreds of peaceful protesters, and tales from Occupiers about being pepper-sprayed by the police became routine over social media.
Two years later, the NYPD's reputation has not been repaired: the agency's stop-and-frisk policy remains as controversial as ever, and an award-winning Associated Press report exposed a secretive intelligence-gathering wing of the force that singled out area Muslims for warrantless surveillance.
Now as he throws in the towel after serving as the civilian administrator of the NYPD for 14 of the last 24 years, Kelly has said something that doesn't shy away from accusations he helped use his police force to make a police-state.
The New York Times was questioning what they called Kelly's "tight control of the department" when he reportedly looked "pained" and told them, "You can't win."
"Obviously, in a quasi-military organization, you need an ultimate decision maker," he said.
Ominous words about the world's seventh-biggest army, or an actualization of what the NYPD has become under his command? The New York City blog Politicker was quick to throw Kelly's quote into a headline for a post they published on Tuesday, and one of the most widely-subscribed Twitter accounts used by Occupy Wall Street linked followers to the Times article by way of Kelly's quip.
"Oh, so he doesn't know what 'quasi' means," one Twitter user remarked back.
@OccupyWallStNYC Oh, so he doesn't know what "quasi" means.

— aishku (@aishku) December 31, 2013
Rania Khalek, an independent journalist who watched the NYPD evolve under Kelly, weighed in on the comment as well.
"I was surprised by his candidness, but my first thought was, at least's being honest," she told RT on Tuesday. "The role of the NYPD, like most city police departments around the country, is indistinguishable from that of the military, especially in poor communities of color where police serve as occupying armies for the most part."
And as the AP's investigation has shown, ethnic minorities in the greater New York region have indeed been forced to endure specialized scrutiny under Kelly and Bloomberg by way of the NYPD's so-called Demographics Unit: a faction of the force dedicated to collecting intelligence on Muslims by seemingly any means necessary.
"Investigations of any community which are not based upon indications of crime create fear and erode the confidence of a community in the power of a legal system to protect it," New York University law professor Paul Chevigny told Newsday earlier this year.
Combined with an "army" of 35,000 or so police officers, it's easy to see how that fear has made Kelly a person that many New Yorkers have grown to despite during his tenure. Additionally, retired NYPC Captain John A. Eterno told the Times this week that the way in which the commissioner has operated his organization in recent years has been cloaked in secrecy to a point of contention.
"He's done very well with technology and made many innovations," Eterno told the Times, "But lack of transparency is going to be his legacy."
"He's simply hidden things over and over that are harmful to democratic policing," he said.
In a 1995 study, Victor Kappeler wrote in his abstract that the quasi-military structure that Kelly claims to have enforced cannot breed a "truly professional" police force. The "need to balance internal discipline with police-citizen interactions results in pressure on the individual officer to produce results," he wrote, is accomplished in militarized units "often by relying on various degrees of misconduct."
Between 2011 and 2012, misconduct within the ranks of the NYPD raised 22 percent, Controller John Liu confirmed back in June, causing a reported 229 NYPD officers to be disciplined last year.
At the same time, however, statistics suggest that the NYPD's actual ability to fight crime could be on the up as well. The Times reported on Tuesday that the city is expect to log only 330 murders for this year — a record low.
"And these record-breaking successes are all due in great part to the professionalism and skill of the NYPD," Bloomberg said during a ceremony earlier this month.
Others, however, had not so nice things to say. To commemorate Kelly's last day as commissioner of NYPD, a few dozen New Yorkers gathered downtown for a "Good Riddance, Ray Kelly" party advertised on Facebook.
"Good Riddance" Card to Ray Kelly - signed people of NYC #changetheNYPDpic.twitter.com/4Al0IkMldO

— Aliya Latif (@aliyaplatif) December 31, 2013
Marjorie has the mic! "Let's thank Ray Kelly for bringing so many people together against his policies" pic.twitter.com/P8tEW4AUJm

— JFREJ (@JFREJNYC) December 31, 2013
"We're celebrating because we survived this asshole," activist Cyrus McGoldrick told the New York Daily News from Tuesday's demonstration.
As RT reported previously, Kelly will soon join the Council on Foreign Relations — a dominant international policy think-tank — where he will still be able to stay close to his fellow New Yorkers. Even in his post-NYPD career, Kelly will receive a taxpayer-funded ten-man security detail that is reported to cost NYC residents around $1.5 million a year.
You can share this story on social media: