Obama's elite Secret Service agents removed over sexual misconduct allegations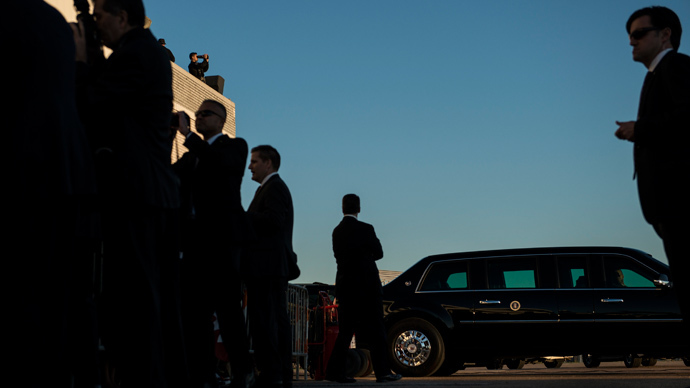 Two secret service agents have been removed from President Obama's elite personal security detail and are currently under investigation over charges of sexual misconduct.
The Washington Post is reporting that two agents – Ignacio Zamora, Jr. and Timothy Barraclough – have been removed for sending sexually suggestive emails to an unidentified female subordinate.
The investigation began when Zamora was found trying to re-enter a woman's room at the Hay-Adams Hotel in Washington, D.C. Zamora said he met the woman at the hotel bar and had accidentally left a bullet in her room.
According to a Secret Service review of the incident, the hotel then notified the White House, which began an internal investigation into the matter. During that review, agency officials discovered that both Zamora and Barraclough had sent the emails in question to a female agent working under them.
Zamora has been removed from his position, and Barraclough has been reassigned to a separate part of the division, the Post reported.
Secret Service spokesman Ed Donovan declined to comment on the situation directly, and efforts by the Post to reach either Zamora or Barraclough were fruitless.
Speaking with NBC News, Rep. Mike McCaul (R-Texas), the chairman for the House Committee on Homeland Security, said the reports of inappropriate behavior are"unacceptable," and that Congress will review the situation.
"Allegations of misconduct on the part of those tasked with protecting the nation's highest officials are extremely concerning," he said. "The integrity of those looking after our First Family must be exemplary, and anything less does our entire nation a disservice." 
The incident comes just one year after a prostitution scandal rocked the agency as it prepared for President Obama's trip to Cartagena, Colombia. Twelve secret service agents were caught up in the scandal, nine of whom are no longer with the agency. An inspector general report on the incident is set to be released in the next few weeks.
In March, Obama appointed Julia Pierson to be the Secret Service's first female director, in an attempt to change the culture at the agency.