Pennsylvania school sued for suspending student over his toy pen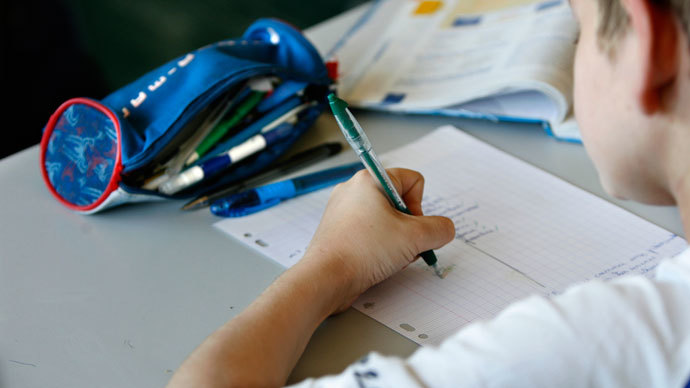 A Pennsylvania elementary school is being sued by the parents of a 7-year-old student who was suspended for bringing a novelty pen to class earlier this year.
The child, identified only in court documents as G.B., was barred from attending Hershey Elementary School in Pennsylvania for four days earlier this year after a bus driver confiscated the pen, a writing implement that emits a small buzz when triggered.
Later, the school's principal said the toy was in violation of the school's weapon policy and issued the suspension.
Principal Joy MacKenzie, the eight members of the Derry Township School Board and the acting superintendent of schools are all being sued by attorney's representing the student's family.
According to the parents, educators arbitrarily deprived their child "of his state-created property interest in public schooling without due process of law on the basis of nothing but hysterical and overly-zealous application of a constitutionally-deficient school policy."
The pen, attorneys for the parents claim, is "similar to a 'clown' type buzzer that one would hold in the palm of one's hand to emit a small buzz when shaking hands."
MacKenzie said the pen was in violation of the school's weapons policy, however, which bans "any poison gas, knife, cutting instrument, cutting tools, nunchaku stick, firearm, shotgun, rifle, and any other tool, instrument or implement capable of inflicting bodily injury or property damage" from being brought to class.
Attorneys for the plaintiffs said the school went too far by using the rule to remove the child from class.
"For G's simple act of taking this pen with him on the bus to school, G was disciplined with a four-day suspension and G has now been permanently classified by the school district as a violator of the district's weapons policy. G's permanent disciplinary record has been marred, and he has been regulated to the same category as violent criminals who bring knives, guns and explosives onto school property for the purpose of assault, murder and even terrorism," they write.
The policy, attorneys add, is unconstitutional because "it fails to define with specificity the kind of activity that is proscribed so that a student can conform his or her conduct to the Policy's requirements."
"Pennsylvania criminal law requires that any potential bodily harm from an item alleged to be a weapon be 'serious' as an appropriate limiting condition," they attorneys write, adding that the buzzing pen shouldn't be considered an implement that fits that criteria.
The parents are asking the court to place a permanent injunction against enforcement of the school's weapons policy and to expunge "the incomprehensibly absurd 'weapons violator' status G now bears."
A spokesman for the school district told Courthouse News Service that "out of respect for confidentiality we would never discuss the discipline of an individual minor student, and for that matter we don't comment on active litigation either."
Complaint, courtesy of TechDirt