Student's parents file lawsuit after boy strip-searched in school
Published time: 7 Dec, 2012 20:37
Edited time: 8 Dec, 2012 00:37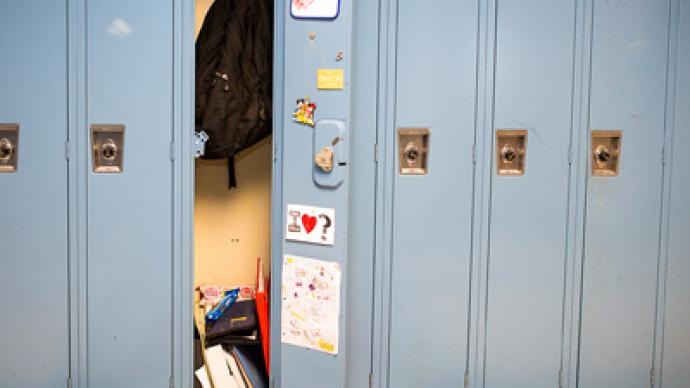 Chicago Public Schools are facing a lawsuit after a 15-year-old boy said he was strip-searched at a high school while a security guard allegedly touched his genitals in search of drugs.
The boy came home crying, embarrassed and distraught that he was stripped naked in front of two security guards, a Chicago police officer and a female assistant principal.
The boy and his parents recalled the incident at Taft High School in an interview with CBS News. The student said that while the boy was serving his in-school suspension, the security guards, police officer and assistant principal took him out of the room and brought him to a bathroom. In response to an anonymous tip that the boy had drugs on him, the security guards searched the boy while he was held against the wall of a bathroom stall with his back to the guards.
"He searched me with my clothes on. Then he told me to remove my belt. As I undid my belt he pulled my pants and underwear down to my knees," the boy told CBS.
"He started grabbing and searching my privates," the boy added.
After finding no sign of drugs, the officers left him alone. But the 15-year-old came home crying and was traumatized from the incident. The boy suffers from an emotional disorder and a learning disability, and the incident affected him drastically.
"He is very withdrawn. He sleeps with his clothes on. He's had nightmares," said Michelle Woodman, the boy's mother. "He is very angry. He's depressed. He is just not the same person."
The parents of the boy are now suing Chicago Public Schools (CPS) for the traumatizing incident their child was forced to endure. CPS prohibits any type of bathroom searches. Additionally, the parents believe that the female school official should not have been watching the boy get stripped down.
"The way it was done was outrageous," said Attorney Julie Herrera. "Having a 15-year-old boy have to have a woman – an older woman – watch him with his pants down, while he is touched by another man. I think is horribly humiliating and embarrassing."
Herrera also claims that there was no valid reason for the search in the first place.
"What we are claiming is that his civil rights were violated when he was strip searched without cause and unreasonably," she said.
CPS and the Chicago Police Department refused to comment on the incident to CBS News.