Mississippi town sued for 'school-to-prison pipeline' targeting minorities and disabled
Published time: 26 Oct, 2012 19:04
Edited time: 26 Oct, 2012 23:04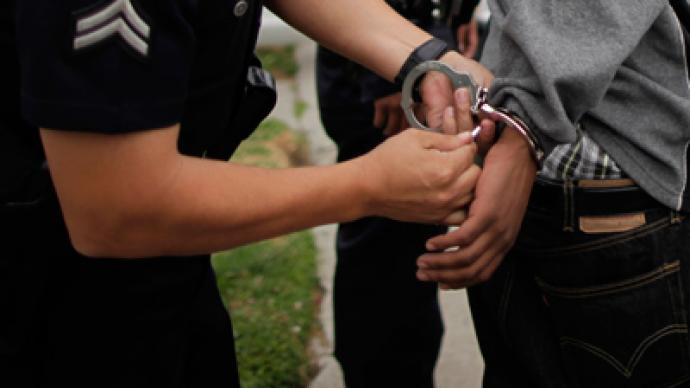 A Mississippi town is facing a lawsuit for operating schools that handcuff and send children to prison for minor classroom infractions like violating the dress code or talking back to teachers.
Students in the town of Meridian sometimes spent days in a prison 80 miles away from their school without a probable cause hearing. They were not read their Miranda rights and sometimes spent more than 48 hours waiting for a hearing, which violates their constitutional rights.
Meridian police routinely arrested students without determining whether there is probable cause of an infraction or whether the school wants to press charges. Handcuffed, the students were sent to Rankin County youth detention center, which is about an hour and a half away by car.
Students were jailed for "dress code infractions such as wearing the wrong color socks or undershirt, or for having shirts untucked; tardies; flatulence in class; using vulgar language; yelling at teachers; and going to the bathroom or leaving the classroom without permission."
Furthermore, all of the imprisoned schoolchildren referred to court were minorities, the lawsuit states. More specifically, the "school-to-prison pipeline" mostly affected African-American children and those with disabilities.
After being arrested, students are usually put on probation, sometimes without appropriate legal representation, the lawsuit claims. Students who are already on probation and violate more school rules could face suspension – time that would be spent at the detention center rather than at home.
Federal civil rights lawyers filed the lawsuit two months after the Justice Department warned local and state officials that they had 60 days to cooperate with an eight-month investigation into the jailing procedures. The Mississippi town failed to cooperate.
"We had no choice but to file suit," Deputy Assistant Attorney General Roy Austin said Wednesday.
"What we are trying to do is fix the problem and not affix blame. Unfortunately the defendants didn't feel the same way," he added.
Defendants in the case include Lauderdale County, judges of the Youth Court and the State of Mississippi Division of Youth Services.
The school district contains about 6,000 students, 86 percent of which are African-American.
The Justice Department lawsuit seeks remedies for violations of the Fourth, Fifth and 14thamendments.
"The department is bringing this lawsuit to ensure that all children are treated fairly and receive the fullest protection of the law," said Thomas E. Perez, Assistant Attorney General for the Civil Rights Division in a DOJ press release. "It is in all of our best interests to ensure that children are not incarcerated for alleged minor infractions, and that police and courts meet their obligations to uphold children's constitutional rights."