San Francisco sheriff reinstated despite domestic violence conviction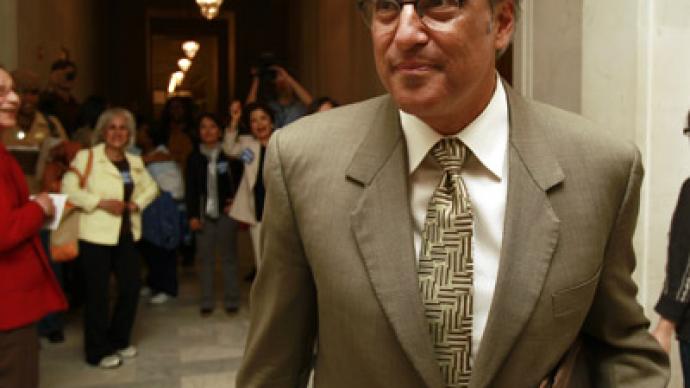 After a three-month-long political battle, a San Francisco sheriff has been reinstated to his position after a suspension for pleading guilty in a domestic violence case.
The city's Board of Supervisors voted to reinstate Ross Mirkarimi, 51, even though he was sentenced in March to three years' probation. In order for him to lose his position, nine of 11 board members would have had to vote for his ouster. Mayor Edwin M. Lee had initially suspended Mirkarimi, arguing that working with him would be difficult, and emphasizing the need to keep him out of office permanently.

"The facts clearly demonstrate that Ross Mirkarimi's actions and his domestic violence-related conviction falls below the ethical conduct we expect of our elected sheriff, and constitutes official misconduct," Lee said in a statement after the vote. "The Board's decision returns a convicted domestic batterer to lead the Sheriff's Office."
Mirkarimi received four votes in his favor, allowing him to return to his position.The sheriff's supporters argued that domestic violence is not considered official misconduct. Mirkarimi's lawyers also maintained that the domestic violence occurred before the sheriff was sworn into office.

"The system worked in this case," the reinstated sheriff told Reuters. "It took a long way to get here. The next step is mending fences and moving forward."

In January, Mirkarimi had been charged with battery, child endangerment and dissuading a witness. The charges resulted from a fight with his wife that left her crying and bruised. Eliana Lopez, Mirkarimi's Venezuelan actress wife, was seen showing her blackened arm in a cell phone video filmed by a neighbor. The charges came five days after the sheriff was publicly sworn into office.

Even though Mirkarimi pleaded guilty to acting violently against his wife, he gained a significant number of supporters within his community. During negotiations, speakers called Mirkarimi the "voice of the voiceless" in the community.

"Ross is the jewel in the crown of San Francisco," 76-year-old Ursula McGuire told Reuters. "I want you to reinstate the jewel."

But advocates against domestic violence believe reinstating the sheriff would spread a negative message within the community.
"If reinstated, Ross Mirkarimi would represent San Francisco's tolerance of domestic violence crimes," said Katharine Berg, associate director of La Casa de las Madres, a women's shelter.

Beverly Upton, executive director of the San Francisco Domestic Violence Consortium, said that the board's decision had harmed the anti-domestic violence movement.

"Clearly we have more work to do," she told the San Francisco Chronicle.