Suspect charged over $1 mln Romney blackmail stunt
Published time: 2 Jul, 2013 20:21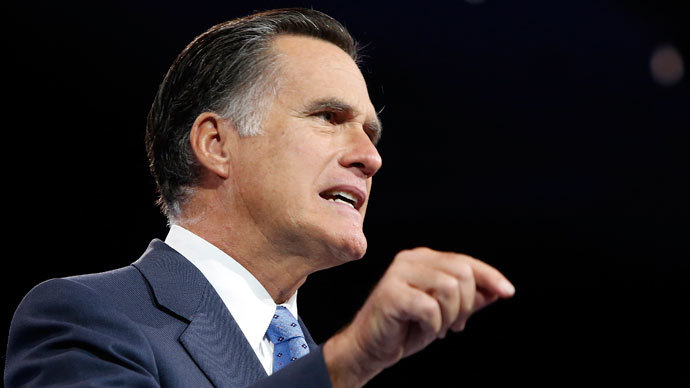 A Tennessee man has been captured and charged with six counts of wire fraud and six counts of extortion for trying to blackmail former presidential nominee Mitt Romney and an accounting firm into paying him $1 million.
The Justice Department on Wednesday announced that 34-year-old Franklin resident Michael Mancil Brown was indicted by a federal grand jury in Nashville for a scheme that took place during Romney's 2012 campaign for president.
PricewaterhouseCoopers LLP, an accounting firm, received an anonymous letter last August from a sender who claimed to have hacked into the firm's computer network and stolen Romney's tax documents for the years before 2010. Romney had only publicly released two years' worth of tax returns, and critics demanded to see a full picture of his finances.
"A scanned signature image for Mitt Romney from the 1040 forms were scanned and included with the packages, taken from earlier 1040 tax forms gathered and stored on the flash drives," the letter said, according to a POLITICO report.
The sender threatened to publish the documents unless the accounting firm deposits $1 million in Bitcoins – a digital currency – into an online account. The letter came with computer thumb drives, which the sender said were encrypted with the documents. The letter threatened to send copies of the tax returns to "all major news media outlets" with passwords to open the documents if the demand was not met.
Similar letters were sent to Democratic and Republican party groups throughout Franklin, Tenn., asking for Bitcoin donations in return for copies of the documents. Some letters said that the documents would be published in return for $1 million in Bitcoin.
One of the recipients was Peter Burr, chairman of the Williamson County Democratic Party. Burr told POLITICO that he received a package with the thumb drives and immediately dismissed it as a joke.
"I was thinking this thing very possibly has viruses on it," he said. "The last thing I want to do is trash our computer."
After receiving the anonymous threats, PricewaterhouseCoopers released a statement claiming that there was no evidence their system had been accessed, and the Secret Service found no evidence of a break-in. The Secret Service and the FBI jointly launched an investigation into the incident.
The Department of Justice on Wednesday released the statement announcing the capture and indictment of the suspect.
"Brown devised a scheme to defraud Romney, the accounting firm of PricewaterhouseCoopers LLP and others by falsely claiming that he had gained access to the PricewaterhouseCoopers internal computer network and had stolen tax documents for Romney and his wife, Ann D. Romney, for tax years prior to 2010," the statement says.