Reuters journalist rejects claims that he conspired with Anonymous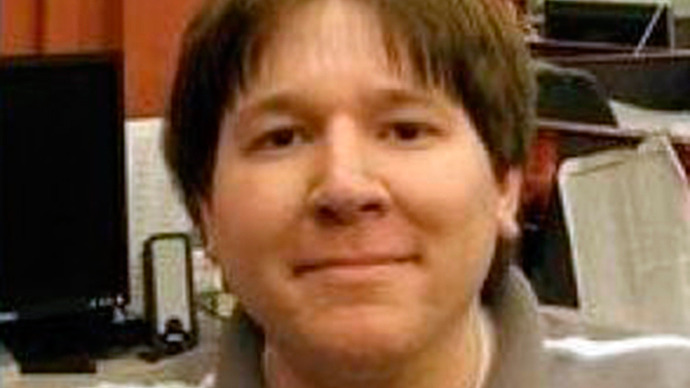 The Reuters social media editor accused of helping the group Anonymous hack his former employer's website is denying the felony charges listed against him on a federal indictment unsealed last week.
Matthew Keys, 26, was charged on March 14 with one count of conspiracy to cause damage to a protected computer, one count of transmission of malicious code and one count of attempted transmission of malicious code. The Department of Justice claims that, after being terminated from his role as web producer for Sacramento-based television station KTXL FOX 40 in October 2010, Keys supplied members of the hacktivist collective Anonymous with credentials that were used to log-on to the network's parent corporation, the Tribune Company.
According to the complaint [.pdf], Keys told a participant in an Anonymous-affiliated chat room in December 2010 that he was a former employee of the Tribune Company and that hackers should "go fuck some shit up" after he shared sensitive log-in credentials. If convicted, he could face 25 years in prison and fines totaling a quarter of a million dollars.
Attorneys for Keys have been speaking out in support of their client starting only hours after the indictment was announced. Only on Wednesday, however, did the defendant publically deny the charges for the first time.
"I did not give a username and a password to anyone. I did not 'conspire' to 'cause damage to a protected computer.' I did not cause 'transmission of malicious code,' and I did not 'attempt' to cause 'transmission of malicious code,'" he wrote Wednesday on a Facebook page that he also directed his 25,000 Twitter followers to.
"My attorneys have said much of the same over the past few days, but I feel it might mean more coming from me directly," Keys concluded.
Keys is the latest in a series of Americans charged under the Computer Fraud and Abuse Act, or CFAA, following the solemn footsteps of hacker Jeremy Hammond — who has been awaiting trial for over a year now from a New York City jail cell — and Aaron Swartz, an information activist that committed suicide in January before his own CFAA case could go to trial. As recently as Monday, Andrew "weev" Auernheimer was sentenced to 41 months in prison for accessing a protected computer, and now the Electronic Frontier Foundation is representing his attempt to appeal.
Unlike other recent cases, though, Keys is not a computer-savvy so-called hacker. While he may be the latest victim of the CFAA, he's spent the last year as an editor for international newswire Reuters, and during that time wrote openly about the Anonymous movement and what his attorneys call his undercover work infiltrating the group.
"He was in the chat room just to do a story," attorney Jay Leiderman told Forbes last week.
When Anonymous' alleged ringleader, Hector "Sabu" Monsegur, was revealed to be a federal informant last year, Keys wrote in a Reuters blog post that he had interacted with the elusive hacker before he apparently became an FBI turncoat.
"In late December 2010, Sabu confided in me some personal details. He said he was a single, unemployed foster father of two children, and was living on government assistance," Keys wrote in March 2012, all allegations that were confirmed shortly after Monsegur's identity was revealed earlier that week.
Keys went on to write about chatting with other well-known members of Anonymous, including agents of the offshoot LulzSec that have since been charged with a slew of hacking-related crimes. In his March 2012 blog post, Keys acknowledged that he saw a rift in LulzSec appear during his investigation, even writing that the LA Times hack was waged "without collective approval" when tensions were tough within the group.
The defacement, which was live for roughly 30 minutes, involved altering a Times headline to read, "Pressure builds in House to elect CHIPPY 1337," a reference to another hacking group. Prosecutors say Keys knew much more than what he blogged about, though, and attest that he conspired with the group — albeit briefly — to perhaps seek revenge against his former employers.
"Keys allegedly encouraged the Anonymous members to disrupt the website," last week's Justice Department statement reads. Keys, on the other hand, says he had nothing to do with the defacement.
"I identified myself as a journalist during my interaction with top-level Anonymous hackers and at no time did I offer said individuals any agreement of confidentiality," Keys explained in a March 2011 post on his personal website — three months after the LA Times defacement appeared.
But even before Keys was under investigation, he was named as the culprit behind the hack. In Parmy Olson's 2012 book We Are Anonymous, she writes, "Sabu later claimed that Keys had given away administrator access to the online publishing system of Tribune, his former employer, in return for the chance to 'hang out in our channel,'" a claim denied by the journalist. Sabu also tweeted that allegation in March  2011, and is not believed to have assisted the feds until his arrest in June of that year.

In assisting with her book, however, Keys did supply Olson with a series of chat logs in which he talked openly with the group using the screen name AESCracked. According to the federal indictment, chat room patron AESCracked offered a hacker with the alias "sharpie" access to the LA Times website after the initial defacement, and discussed further hacks against his former employer.
Keys is also being represented by Tor Ekeland, the attorney who unsuccessfully defended Mr. Auernheimer during the CFAA trial that culminated with Monday's sentencing hearing in Newark, New Jersey. Meanwhile, the Justice Department confirmed last month that Monsegur is continuing to cooperate with the FBI's investigation into the Anonymous movement. Monsegur pleaded guilty in 2011, and could face 124 years in prison if ever sentenced. So far, however, his sentencing hearings have been delayed for nearly two years while he continues to assist the authorities.
You can share this story on social media: