Reuters journalist indicted over Anonymous hack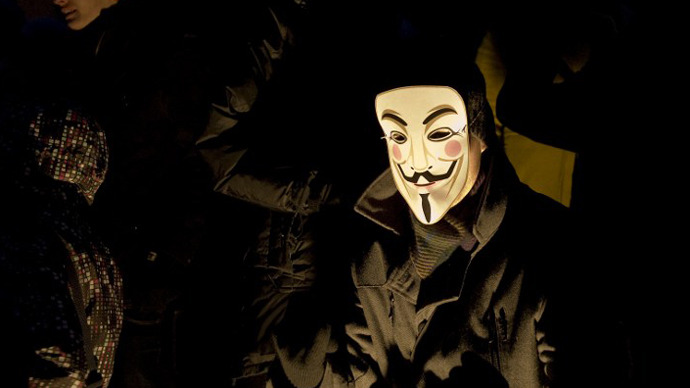 The deputy social media editor for Reuters has been indicted by the US Justice Department for allegedly conspiring with members of the hacktivist movement Anonymous.
According to a Justice Department statement released on Thursday, 26-year-old Matthew Keys of Secaucus, New Jersey was charged in the Eastern District of California with a number of counts involving his alleged cooperation with the international hacking group while employed as the web producer of Sacramento-based television station KTXL FOX 40.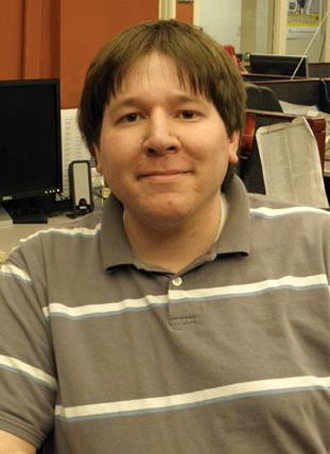 Keys, confirms the DoJ, has been charged "with one count each of conspiracy to transmit information to damage a protected computer, transmitting information to damage a protected computer and attempted transmission of information to damage a protected computer."
Keys did not respond to requests for comment. Several hours after the indictment, he tweeted: "I found out the same way most of you did: From Twitter. Tonight I'm going to take a break. Tomorrow, business as usual." His attorney did not return a phone call seeking comment, Reuters reported.

Thomson Reuters did not comment on the journalist's employment status. However, a company employee at their New York office said that Keys' workstation was being dismantled, and his security pass had been deactivated.

The Justice Department believes that Keys assisted members of Anonymous with hacking into the Los Angeles Times website by providing them with log-in credentials for a computer server belonging to KTXL's corporate parents, the Tribune Company, after he was terminated from his role at the television station in October 2010. Two months later, claims the indictment, Keys helped members of Anonymous gain access to the master network.
In January 2012, Keys was hired by Reuters as deputy social media editor. In an article announcing the appointment last year, Reuters contributor Anthony DeRosa wrote that Keys will "play a key role in helping to train Reuters journalists on best practices in social media."

"According to the indictment, Keys identified himself on an Internet chat forum as a former Tribune Company employee and provided members of Anonymous with a login and password to the Tribune Company server," the Justice Department claims in an official statement issued Thursday. "After providing log-in credentials, Keys allegedly encouraged the Anonymous members to disrupt the website.  According to the indictment, at least one of the computer hackers used the credentials provided by Keys to log into the Tribune Company server, and ultimately that hacker made changes to the web version of a Los Angeles Times news feature."
On March 22, 2011, Anonymous "ringleader" Sabu tweeted that Keys gave full control of the Times' website to hackers. Sabu was arrested by the FBI in June of that year and has been cooperating as a federal informant ever since.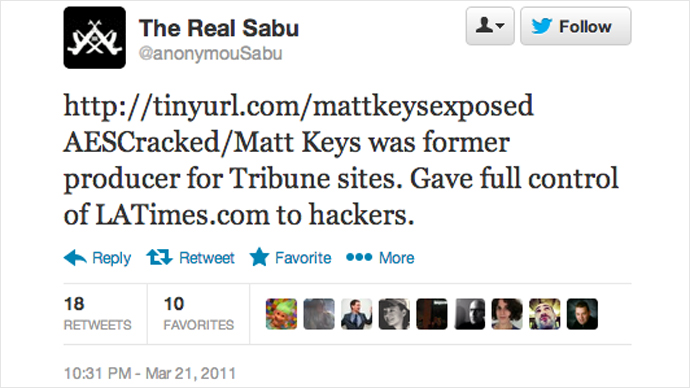 "I think that Sabu might have trusted me," Keys wrote in a March 2012 blog post published shortly after Sabu's cooperation with the feds was first revealed. "In late December 2010, Sabu confided in me some personal details," Keys said.
Elsewhere in the indictment, Keys is alleged to have approved of the defacement of the LA Times' website by writing to an accomplice, "nice," during an online chat. He could be sentenced to 10 years in prison and be fined a quarter-of-a-million-dollars for each count, bringing fees to upwards of $750,000.
You can share this story on social media: