KBR's alleged rape victim charged almost 150K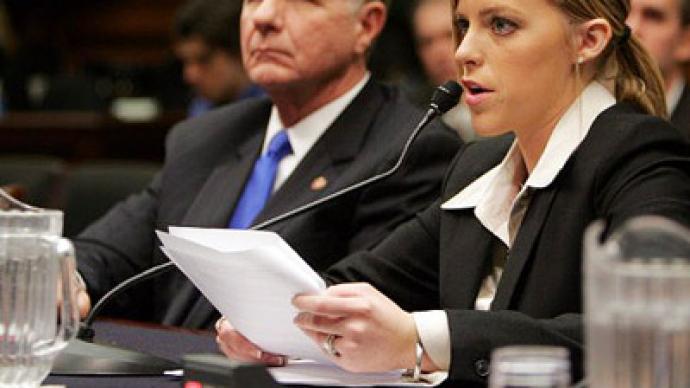 Jamie Leigh Jones has said for years that her co-workers at contractors KBR gang-raped her and held her hostage while on the job in Iraq in 2005. Six years later, not only has a jury sided with KBR, but now Jones is stuck footing their $145,000 bill.
Jones was seeking $145 million in damages from KBR, who was owned by Halliburton during the time of the 2005 incident. She has long alleged that she was drugged and raped in her barracks at the Camp Hope compound in Baghdad only to be locked into a shipping container for 24 hours after without food, water or medical treatment. Despite a physician's confirmation that Jones was beaten and bloodied after the incident, a jury ruled in July that they did not have enough evidence to prosecute KBR or the named assailant, Charles Bortz, and ruled that any sexual encounter between the two parties was consensual. Earlier this week, a federal judge added insult to injury by insisting that Jones foot the bill for the military contractors' $145,073.19 in court costs, reports the Houston Chronicle.Following the end of the initial trial in July of this year, KBR responded by asking Jones to cover their $2 million bill for legal fees. They believed that Jones' allegations were fabricated and as a result she should have to take care of their costs. While this week's ruling means Jones won't have to shell out the millions to pay back KBR's legal team, a judge has determined that she will have to compensate the company for other related court costs, including nearly $60,000 in transcript fees, almost $14,000 in printing costs and other bills related to the trial."Because the KBR defendants' costs fall within the recoverable costs enumerated in (statute), the court finds that KBR's application for costs must be granted," ruled US District Judge Keith Ellison from a Texas court house this week. "The fact that Jones presented prima facie claims of sexual harassment and hostile work environment highlights the impropriety of an award of attorneys' fees in this case," added Ellison.After the alleged incident, Jones says that her breast implants were ruptured. She sought medical attention and was administered a rape kit, though the results mysteriously disappeared for two years. Once recovered, crucial information was missing.Following this week's decision, Jones' attorney Todd Kell tells the Law Blog, "Jamie, you remain a hero in my eyes.I am humbled that you chose me to stand for you.I am sorry that we did not walk out of that courtroom with justice, but I am proud to have stood by your side fighting for it for five long years."Earlier this year, KBR was voted one of the 50 top companies for women by the readers of the magazine Woman Engineer. In 2009, their revenue was over $12 billion.