Anger mounts as over 100,000 remain without power post-Sandy
Published time: 12 Nov, 2012 02:45
Edited time: 12 Nov, 2012 06:58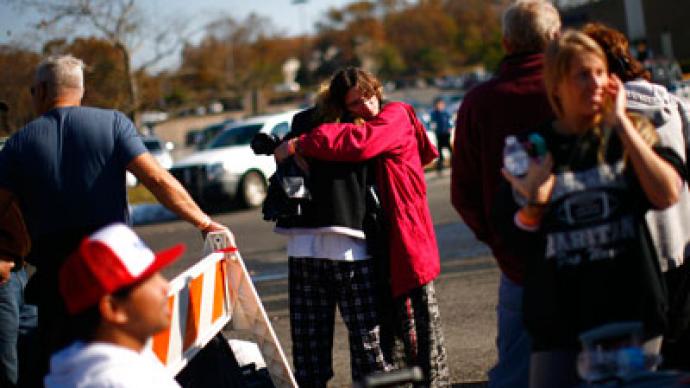 Residents of the northeastern US lashed out at a local utility company for its inability to restore power or provide information some two weeks after the region was hit by the deadly Hurricane Sandy.
­More than 120,000 New York and New Jersey residents remain without power as the Long Island Power Authority (LIPA) has failed to repair the grid connecting tens of thousands of homes and businesses to power. 

LIPA estimates that 50,000 properties were still powerless on Sunday while another 55,000 couldn't be connected to the grids, as extensive flooding in the area damaged the wiring and equipment.
Cold and frustrated customers are becoming angrier as the power firm failed to answer their calls and provide some sort of a deadline for the electricity supply to resume. 

"I was so disgusted the other night," said Carrie Baram of Baldwin Harbor, New York, who said she calls the utility three times a day. "I was up till midnight, but nobody bothered to answer the telephone."

"We are sitting in a cold house. No one comes by," said John Mangin of Levittown, New York. "There should be criminal charges against the CEO and the executive board of LIPA for failure to do their jobs."
Photo from twitter.com user @MattMinerXVX
LIPA claims to be fully aware of the lack of information to its customers, and has partly blamed an outdated information technology system for the problem. The company's officials have promised to set up information centers near the most heavily damaged areas.

The firm has also said that some 6,400 linemen are working to fix the problem – thirty times more than on any normal day.

"We certainly understand the frustration that's out there," LIPA's chief operating officer, Michael Hervey, said in a conference call late Sunday. But, he said, the storm had been worse than expected, no utility had as many workers in place beforehand as it would have liked, and the power was coming back rapidly "compared to the damage that's been incurred."

The company has promised to restore power to 99 percent of its customers by Tuesday.
But people are still tweeting, "u better not send me a bill this month" and "day 14 still no power – living house to house with 3 very young kids and dog. When will LIPA help us! "

Those visiting the Big Apple were shocked to see the power outage. "Flying into my beloved New York tonight the pilots flew us over big patches of still dark areas. I actually cried. LIPA, where are you???", another tweeted.

New York Governor Andrew Cuomo has called an investigation of the company, criticizing it for bad management. 

On Friday, two congressmen asked the federal government to help LIPA restore power.

"It's a totally disorganized effort, and LIPA unfortunately seems to have lost control of the situation – and that's why you see so many people becoming so angry," Representative Peter King said Saturday.

It is estimated that more than eight million people have lost power after Hurricane Sandy.
­
An ice-cream truck providing power for a house. Photo from twitter.com user @mattgunn
­
Photo from twitter.com user @mhbraverman
­
A woman prepares food to be handed out to victims of Hurricane Sandy, in the Rockaway Beach neighborhood of Queens, New York, November 10, 2012.(Reuters / Andrew Burton)