Fuel shortage after Sandy spawns gasoline black market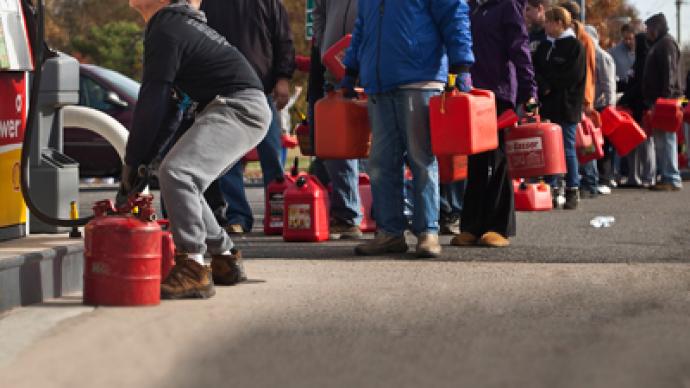 A lot of things are pricier in New York, especially apartments, where a small studio space can cost a person an arm and leg for something to size of a jail cell. In the aftermath of Sandy, fuel is seeing a surge as well, but not at service stations.
With much of the Northeast United States still ravaged from last week's freak superstorm, throngs of drivers in New York and New Jersey have been left stranded because of a shortage of gas. The lucky few who have managed to make off with a couple of gallons while others wait in long lines are sharing the wealth, but while making a few bucks themselves. A gasoline black market has emerged in the wake of the storm, and unlucky souls are spending top dollar to fuel up their rides.On Craigslist, where goods and services are commonly bartered on the Web, New Yorkers are advertising inflated gas prices as desperation eats away at the checking accounts of unfortunate residents of the Big Apple.The American Automobile Association (AAA) currently prices the average gallon of gas nationwide to be less than $3.50 a gallon, but some are asking triple that online as supply and demand sends prices soaring."Don't wait in line," one seller writes on Craigslist from Queens, NY. For the price of $10/gallon, they gladly deliver fuel to any neighbors willing to pay the price.In the Elmont neighborhood of Long Island, another advertisement tries to pawn off petro at the price of $20/gallon with conditions that require the buyer to venture out to pick up their prize.Over the weekend, one user published a want-ad for a single gallon of gas. "I need 1 gallon of gas delivered to me midtown east (by United Nations) so I can make it home," the person writes. "If you can bring me 1 gallon of gas (in your own gas container as I don't have one), I'll pay you $40.00. Please don't waste my time or your time by trying to sell me something other than gasoline."On Sunday, lines at filling stations were reported to extend for miles across the greater New York region as the city was still left stripped of goods during the fallout following Sandy's arrival last Monday."I would have to say that it's probably capitalism at its worst," Sal Risalvato, executive director of the New Jersey Gasoline-Convenience-Automotive Association, tells an ABC affiliate.Adding to the network's report, another person described as a contractor from Brooklyn says he sold off his entire personal inventory of 500 gallons of gas to customers willing to pay a pretty penny for something normally sold on every other street corner."I was able to sell everything for $11 a gallon. I probably could have gouged people for twenty bucks and they would have paid it," he said.By the end of the weekend, the Energy Department estimated that just more than a quarter of all gas stations across New York City, Long Island and New Jersey were out of gas, down from 38 percent from Saturday. Barely a week after Sandy swept up the East Coast, though, the Atlantic region is expected to experience another serious nor'easter in the coming days.Charley Shimanski, senior vice president of Disaster Services for the Red Cross, tells Fox News that the agency has already sent "an additional 80,000 blankets and bringing food and relief supplies to the hardest hit areas" while they await the arrival of a second storm.
You can share this story on social media: