East Coast orders evacuations as Winter Storm Athena moves in days after Sandy
Published time: 7 Nov, 2012 17:53
Edited time: 7 Nov, 2012 21:53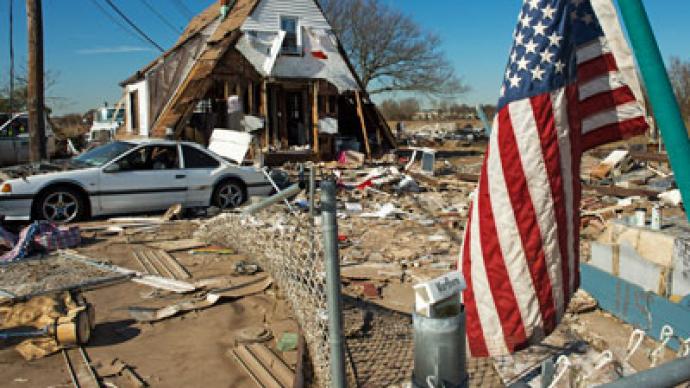 Much of the US is still in recovery barely a week after Superstorm Sandy wreaked havoc up and down the East Coast, but things might not be going back to normal anytime soon: a powerful nor'easter is scheduled to strike that same region on Wednesday.
Only nine days after power lines, roads, businesses and houses were hit hard from North Carolina through New England thanks to Sandy, a nor'easter storm is expected to move through New York and New Jersey and once again bring high winds, heavy rain and serious flooding to the region, perhaps even with a bit of snow in some parts of the country.
Meteorologists say Winter Storm Athena will hit parts of the Atlantic Coast starting Wednesday afternoon and will continue through Thursday morning, targeting specifically the greater Philadelphia, Pennsylvania area, with both Boston and New York expected to be impacted to a degree as well. According to weather expert Tom Niziol, meteorologist Tom Moore and the Weather Channel's Global Forecast Center scientists, up to six inches of snowfall combined with winds gusting over 35 mph at times can be expected in parts of the country that saw substantial damage during last week's storm.
By Wednesday morning, more than half-a-million people in the Northeast were still powerless because of Sandy's job on the electrical grid and infrastructure days earlier. Even if Athena isn't expected to be as strong as her predecessor, the colossal damage caused only days earlier will make much of the area an easy target, even if the second storm is comparably weaker.
In New York City, Mayor Michael Bloomberg ordered the NY Police Department to advise residents in some trouble areas to be prepared to relocate if the storm picks up.
"Even though it's not anywhere near as strong as Sandy — nor strong enough, in normal times, for us to evacuate anybody — out of precaution and because of the changing physical circumstances, we are going to go to some small areas and ask those people to go to higher ground," the mayor said Tuesday.
New York was still being described as disastrous a week after Sandy struck the Big Apple and cut power for a good chunk of the country. The storm also resulted in more than 100 deaths and, by some estimates, upwards of $50 billion in damages. In the Rockaways section of the Queens borough, Mayor Bloomberg asked 600 people residing in four health center to be evacuated because the region simply cannot experience anything like what happened a week earlier.
"These four facilities are in the most heavily-impacted area of the Rockaways and have been successfully operating on generator power. A Nor'easter storm surge could compromise their generators, putting elderly residents at risk," he said. According to CBS News, none of those facilities were evacuated for Sandy.
In preparation for Athena, Mayor Bloomberg announced that all New York parks would be closed for 24 hours beginning on noon Wednesday.
"We could have some snow on the ground and certainly some snow on the trees. That makes trees who already have their base flooded more likely to fall over, and that's something that we're really going to worry about," he said, according to the network.
Linda Gilmore, a spokesperson for Atlantic County in southern New Jersey, tells the Associated Press that the last thing the region needs right now is a nor'easter.
"We have almost everyone who possibly can be reconnected back on. The idea we could now be facing power outages again does not come at a good time," she says.
Speaking on behalf of The Weather Channel, expert storm watcher Tom Niziol tells NBC News of Athena that "It's not a massive nor'easter by winter standards, but at this time of year immediately after Sandy's wrath and destruction, this isn't what we want,"
"Mother Nature is not cutting us a break along the East Coast," he said.