NYC marathon runners ignore cancellation and donate to Sandy victims (PHOTOS)
Published time: 5 Nov, 2012 00:06
Edited time: 5 Nov, 2012 05:10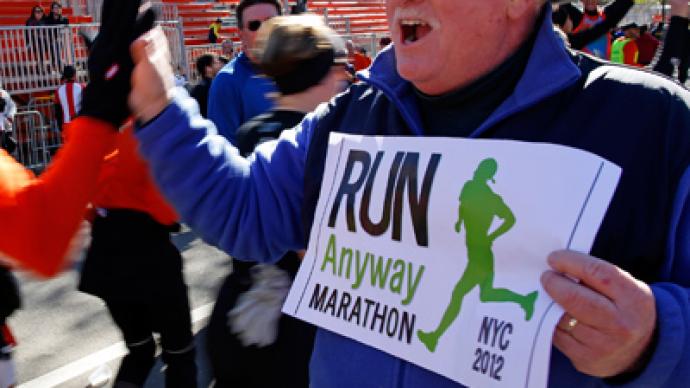 The ING New York City Marathon was cancelled due to the devastation from Hurricane Sandy, but the participants weren't having it - nearly 2,000 runners ignored the cancellation, showing up and running 26.2 miles (42.2 km) anyway.
Through a Facebook page put together by a group of runners who had spent months fundraising to run for the nonprofit ALS Foundation, the large group of participants showed up at Central Park on Sunday morning. The "Run Anyway New York City Marathon" recruited a multitude of runners who had come from far and wide – some from other countries – to participate.
Hurricane Sandy, which left more than 100 people dead and large swaths of the city without electricity, made it difficult for the marathon to still be held. The generators needed to power laptops and cameras for the race would have taken away power from about 400 homes, the New York Post reported. The race would have begun in Staten Island – the hardest-hit borough that left 19 dead – and made its way through many of the most storm-devastated New York City neighborhoods.
Runners participate in the "Run Anyway NYC Marathon" taking place in Central Park on November 4, 2012 in New York, New York (AFP Photo / Mehdi Taamallah)
Instead of take the original route and stripping such neighborhoods from their already-lagging resources, the 2,000 participants ran four times around Central Park – some clockwise, others counterclockwise, some running straight through the park.
"We don't want to be disrespectful, or take up resources," 27-year-old Lance Sven, who ran in the Facebook-organized marathon, told New York Daily News. "All we intend to do is put our miles in around the park."
Many of the runners brought donations for the victims of Hurricane Sandy. Asked to donate food, clothing and money to the Sandy Relief, the marathon proved to a successful endeavor that did not deprive powerless New Yorkers from their generators. Runners appeared pleased with their decision to participate – especially ones who'd raised thousands of dollars to be there.
"We all understand why they canceled," said marathon runner Jack Waitz. "And we will be back and even better next year, but it is still very important to run today. We all paid substantial money to be here, and we raised money."
A team from Switzerland running (Photo by Lauren C. Daniels)
All of this year's participants have been guaranteed entry into next year's race, but not everyone would be able to attend again. So many people showed up at Central Park on Sunday morning that runners had to start their races in waves because there was not enough space for all of them.
"It was kind of eerie because initially there was no one, and then suddenly there was everyone," marathon runner Tracey Busch, told the Associated Press.
Some New Yorkers expressed anger that the marathon was still taking place, against the wishes of city officials. "There's no marathon! Go home!" one man yelled from his car as runners passed the waterfront. But hard feelings were few as the kindness of the athletes drew more of the attention. Runners gave away flashlights, batteries, sweatshirts, food, and donated money.
"God bless you," a man said near the waterfront as he was given batteries and a warm sweater. "Let me take your picture."
Those with disabilities also braved the elements to compete (Photo by Lauren C. Daniels)
British runners (Photo by Lauren C. Daniels)
Runners participate in the "Run Anyway NYC Marathon" organized by Lance Sven taking place in Central Park on November 4, 2012 in New York, New York (AFP Photo / Mehdi Taamallah)
Following the cancellation of the ING New York City Marathon, Lance Sven (pictured) started a Facebook page to organize a group of runners to participate in the "Run Anyway NYC Marathon" taking place in Central Park on November 4, 2012 in New York (AFP Photo / Mehdi Taamallah)
Runners participate in the "Run Anyway NYC Marathon" taking place in Central Park on November 4, 2012 in New York, New York (AFP Photo / Mehdi Taamallah)