Sandy death toll rises, recovery pace criticized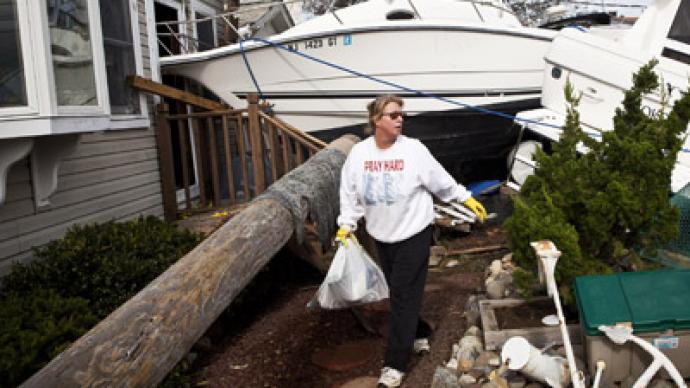 As the waters of Sandy recede in the US, the death toll continues to rise, with the total now at 98 as more bodies are being discovered during clean-up operations. Millions are still left without power and victims are beginning to feel ignored.
New York State officials said the local death toll had increased to 41 on Friday, including two boys, age two and four, who were swept away from mother's arms while stuck in a car amidst floodwaters.At this point 3.8 million Americans remain without power, including 3.2 million in the states of New Jersey and New York alone. Nearly 400,000 Pennsylvania residents are still suffering from power outages, and a quarter of a million people share their fate in Connecticut. Most other states along the East Coast have had power completely or mostly restored. One of the hardest-hit regions was New Jersey, with 14 reported deaths. Thousands who have fled their homes to escape the flood are unable to return home due to high water levels and 1.6 million still remain without power there.  Most of the state's transit system is not functional and gasoline shortage is making it difficult for people to use their own vehicles. "Literally digging through rubble, we have found some of our exposed, broken pipes with flare-ups on the ends of them," said Micah Rasmussen, a spokesman for New Jersey Natural Gas.In Hoboken, New Jersey, 20,000 residents became stranded in their homes when the Hudson River broke its banks and flooded parts of the city. Residents were told to stay away from the water, as it was tainted with sewage and chemicals from the area's various industries. "When the storm hit, it looked like rushing rapids outside. The water was chest-level. Now, three days later, there's raw sewage and oil in the street. It's a real health hazard. I saw people walking barefoot," said local homeowner Deborah Cohen as quoted by France 24. "A lot of people have left town, because they don't have heat or electricity. We've been flooded before, but this is by far the worst I've ever seen. It's going to be pricey to repair."
In New York, four of the city's seven subway tunnels were flooded and three still remain underwater. Over a million are still without power and 900,000 of those will remain so until November 11, while Manhattan is said to get its lights back by midnight on Friday. New York's Staten Island, which houses 500,000 residents, mostly blue-collar workers, was hit the worst during Sandy, with more than 80,000 residents still without power, many homeless, and at least 19 dead because of the storm.And only four days after the storm, supplies are making their way to the area. Staten Island Borough President James Molinaro expressed his anger at what he sees as a slow relief effort. "This is America, not a third world nation. We need food, we need clothing," Molinaro told ABC news. The Federal Emergency Management Agency's (FEMA) is now shifting focus from search and rescue to power restoration, floodwater pumping operations, providing basic necessities and reaching out to hard-hit communities, reported Washington Post. However, many of the victims' frustrations are growing as they feel forgotten about.
Feeling helpless
New York City Mayor Michael Bloomberg announced Thursday that New Yorkers need to have patience with recovery efforts. "We are desperately trying to help everybody," said Bloomberg. At the same time he stated that NY is fine and will be proceeding with the world's largest marathon on Sunday, with 40,000 runners participating. "The city of New York right now is talking about getting water out of the Battery Tunnel and preparing for a marathon," member of US House of Representatives Michael Grimm told NBC News. "We're pulling bodies out of the water. You see the disconnect here?"Even elected officials are pleading for more help fast.
Molinaro criticized the Red Cross, calling it an "absolute disgrace" and even asked people to stop donating. "The first responders came through, but since then no one has been down here," Russell Isak from Staten Island told The Wall Street Journal. "No agency has been down here. Nothing."The damage is truly grave and estimated at up to $20 billion in insured losses and $50 billion in economic losses, according to disaster modeling company Eqecat.Insurance Information Institute ranks Sandy as the fourth costliest US disaster, behind Hurricane Katrina in 2005, the September 11, 2001, attacks and Hurricane Andrew in 1992.Other states suffering significant death tolls were Pennsylvania with 12 and West Virginia with 6.