$60 billion in Superstorm Sandy devastation, one of worst US clean-up bills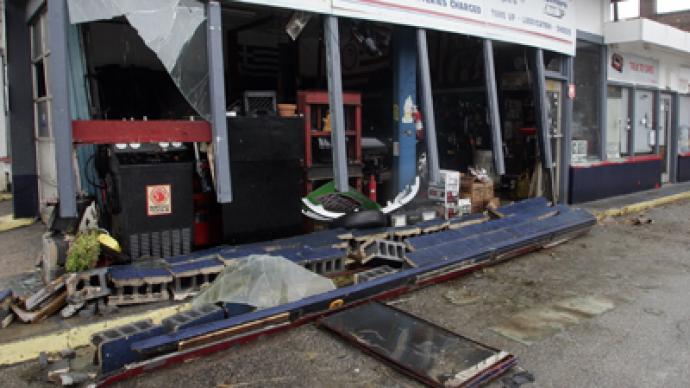 The worst of Superstorm Sandy may be over, but it's left a trail of extensive – and expensive – devastation behind. Lost business and damages will cost up to $60 billion to fix, says forecasting firm HIS Global Insight.
The costs include an estimated $20 billion in property damages and $10 billion to $30 billion in lost business, AP reports.What's worse is that most homeowners will have to pay for home repairs out of their own pockets – because standard insurance policies don't cover flood damage and few homeowners have flood insurance. The storm, which cut power to eight million homes and shut down 70 per cent of east coast oil refineries, reached far beyond the local economy. Hitting and area responsible for 10 per cent of US economic output, the nation as a whole has been affected.The impact has been felt across the spectrum – from small family owned shops to the New York transit system. And much of that revenue may be impossible to make up. For example, restaurants which lost two or three days of business will not necessarily experience a surge in customers once they reopen, meaning some of their profits will be permanently lost.With some roads in the Northeast completely impassable, drivers won't be heading to the tanks as often as usual, which means that oil and gas profits will likely also decrease.That does, however, mean that gas prices will likely fall. On Tuesday, the national average for a gallon of regular gasoline fell by one penny, to $3.53 per gallon – more than 11 cents lower than one week ago. 
Insurance losses
Five most expensive US hurricanes, based on estimated insured losses for property coverage:5. Charley (2004) – $8.755 billion4. Wilma (2005) – $11.676 billion3. Ike (2008) – $13.050 billion2. Andrew (1992) – $22.939 billion1. Katrina (2005) – $46.591 billion Source: CNBC
Insurance companies will still be feeling the pinch, despite the fact that most US homeowners don't possess flood insurance. Losses from the superstorm will likely total between $5 billion to $10 billion for insurance companies, according to forecasting firm Eqecat. That total could make Sandy the fifth most clean up operation when it comes to insurance losses. However, professionals in the field are looking to the bright side."As an insurance event, Sandy is going to be a blip on the balance sheet…2012 has been a relatively catastrophe-free year," said Duncan Ellis, US property practice leader at Marsh insurance.To date, Hurricane Katrina in 2005 ($46.5 billion) and Hurricane Andrew in 1992 ($22.9 billion) have proven the most costly for US insurance companies.
Trickling effects
The storm is expected to be the cause of a slowed economy in coming weeks. IHS Global Insight says the blow could subtract around a 0.6 percentage point from US economic growth this quarter.However, there is a light at the end of the dark tunnel that Sandy left behind – because the slowed growth is expected to be matched with reconstruction and repairs that will contribute to growth over time.Deputy chief economist at TD Bank, Beata Caranci, said the storm should help the construction industry, which laid off millions of workers after the US housing crash.And although rebuilding and restocking costs will hurt the wallets of businesses and consumers, such spending will actually add to the country's gross domestic product (GDP) – helping the US economy in the long run. 
Ranking the ruin
Superstorm Sandy is expected to be one of the ten most costly natural disasters in US history. In fact, economists predict it will surpass the $15.8 billion in damages caused by Hurricane Irene last year.However, the storm won't even come close to matching Hurricane Katrina's damages, which cost a whopping $108 billion in 2005.But Caranci urged caution, stressing that's there's no need to panic."There is every reason to believe that the hurricane won't kick the legs out of an already-fragile US economy," she said.
You can share this story on social media: